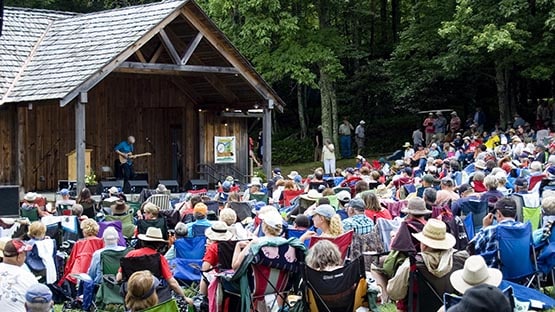 Virginia State Parks will bring a variety of music to five locations this year as bluegrass, jazz, gospel, country, rock and roll and more take the stage on scenic stages throughout the Commonwealth.
Most series run from May until October and begin at 6 p.m. or later.
Some concerts are free, and some concerts require a ticket purchase, but parking fees are required at all park locations upon entry.
Each park location offers a unique view for the summer concerts.
In addition to the music series, there are additional concerts, festivals and music camps taking place at Virginia State Park locations.
For more information, visit https://www.dcr.virginia.gov/state-parks/music
Belle Isle State Park – Music by the River (Lancaster)
Music Director Bob Mason and Friends of the park put together local bands for outdoor Saturday evening concert series.
A dance floor has been added in the pavilion this season. Free popcorn and beverages for purchase.
The 2023 season is available online.
Hungry Mother State Park – Music in the Park (Marion)
Friends of the Hungry Mother State Park present the summer concert series with all proceeds benefiting the park and its projects.
"These artists, both individuals and small groups, are wonderful to hear and we host a variety of different music to keep things fresh every week. Plus, you can't beat the amazing lake view combined with music that is sure to make you feel good," said Hungry Mother State Park Manager Andrew Philpot.
Pocahontas State Park – Pocahontas Premieres (Chesterfield)
The music series offers something for everyone – from oldies to Motown to classic rock and country, the series brings big-arena experiences to the Heritage Amphitheater.
Smith Mountain Lake State Park – Ray Judd's Music in the Park (Moneta)
The Smith Mountain Lake State Park Friends group has been sponsoring music for more than 20 years.
"Country and bluegrass music are rooted in this area of Virginia," said Smith Mountain Lake State Park Manager Brain Heft. "It is a great opportunity for our guests to enjoy an evening looking out over Smith Mountain Lake, listening to this traditional music, watching, and even participating in clogging."
Westmoreland State Park – Music on the Cliffs (Montross)
The event features local music in various genres.
"This event has become a must attend series for many people, especially the local residents, because they look forward to enjoying good music as they gaze at the Potomac River from the top of Horsehead Cliffs," said Westmoreland State Park Manager Steve Davis.
Related stories
AmeriCorps program in Virginia State Parks accepting applications through April 30
Most Virginia State Park campgrounds to open on March 3
Calling all outdoor enthusiasts: Adventure series in Virginia state parks begins Feb. 18
Put your best foot forward in new year with a First Day Hike at a Virginia State Park