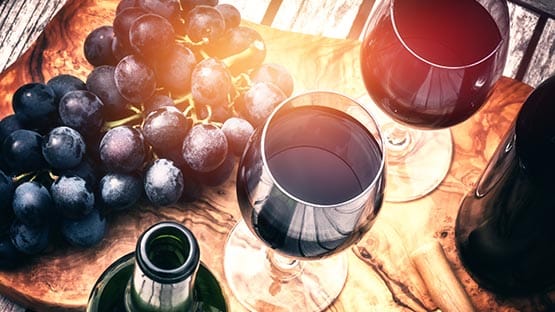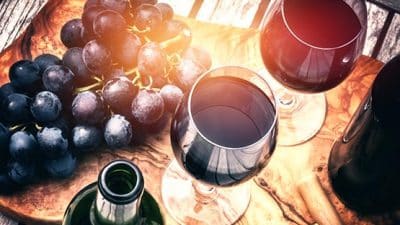 Delfosse Vineyards and Winery of Faber has been awarded the 2023 Virginia Governor's Cup® for the 2021 Screaming Hawk Meritage.
A signature estate red blend of 50 percent Petit Verdot, 30 percent Cabernet Sauvignon, 10 percent Cabernet Franc and 10 percent Malbec, winemaker Andrew Bilenkij and owners Mike and Adrienne Albers accepted the Cup on behalf of Delfosse Vineyards and Winery yesterday.
This year's competition, the 41st year of the Cup, received 614 entries from more than 115 Virginia wineries, cideries and meaderies.
"It is an honor to present this year's Virginia Governor's Cup® to the team at Delfosse Vineyards and Winery," Gov. Glenn Youngkin said. "Delfosse is adding an exciting new chapter to its venerable history and we look forward to all they do next as Mountain and Vine Vineyards and Winery."
Delfosse will soon rebrand as Mountain and Vine Vineyards and Winery to reflect an appreciation for the beautiful features of the vineyard property. Michael and Adrienne Albers purchased the property in 2016 with the goal to produce award winning wines with 100 percent estate grown fruit.
"Since coming to Delfosse in 2019, this is one of my first vintages to see from vineyard to bottle. I'm excited and proud to see it recognized by the Virginia Governor's Cup judges," winemaker Andrew Bilenkij said.
Mike Albers said he told his team every year that the goal was to win the Governor's Cup.
"Each year I see the advancement in the caliber of wines and ciders in this competition. With another record-breaking year, 66 producers received a 90-point score or higher," Secretary of Agriculture and Forestry Matthew Lohr said. "As this industry grows, it continues to support and strengthen both the agricultural community in the Commonwealth and Virginia's economy."
A panel of judges evaluated wines based on appearance, aroma, flavor, commercial suitability and overall quality. The 2021 Screaming Hawk earned the highest average score, and will be featured alongside 11 other wines in the Virginia Governor's Cup® Case, a collection of the competition's 12 highest scoring wines. Also in that case is the 2019 Petit Verdot from Barren Ridge Vineyards in Fishersville.
The case includes:
Delfosse Vineyards and Winery, 2021 Screaming Hawk Meritage
50 West Vineyards, 2020 Petit Manseng
Barboursville Vineyards, 2021 Vermentino Reserve
Barren Ridge Vineyards, 2019 Petit Verdot
Jefferson Vineyards, 2021 Petit Manseng
Jefferson Vineyards, 2019 Meritage
Mountain Run Winery, 2021 Petit Verdot
Paradise Springs Winery, 2021 Petit Verdot
Pollak Vineyards, 2017 Meritage
The Williamsburg Winery, 2019 Petit Verdot
Trump Winery, 2016 Blanc de Noir
Trump Winery, 2019 New World Reserve