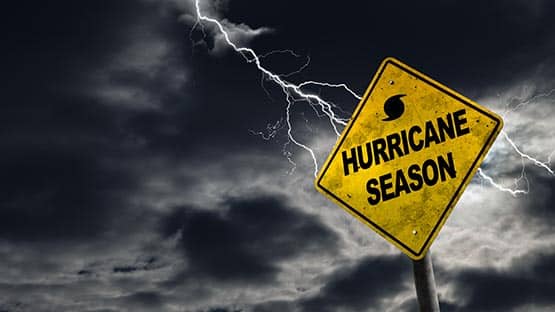 The official Atlantic hurricane season begins June 1, and with anywhere from 11-17 named storms expected this year, it's never too early to prepare your family for possible storms.
The NOAA is predicting 12-17 named tropical storms and five to nine hurricanes. AccuWeather told AFP that its 2023 forecast calls for between 11 and 15 named storms.
The Virginia IT Agency and Virginia Department of Emergency Management are teaming up to share digital preparedness tips.
"When it comes to preparing for hurricane season, you may not necessarily think about digitization or protecting your computers, smart phones and other electronics," said Chief Information of the Commonwealth Robert Osmond. "However, technology is a critical response and recovery tool, allowing you to stay connected and have access to life-saving and life-sustaining information before, during and after a disaster."
Virginia Emergency Management State Coordinator Shawn Talmadge said preparing digital devices and assets is just as essential to hurricane readiness as strengthening your home.
"When a disaster strikes, you must have several ways to receive warnings, alerts and updates, including Wireless Emergency Alerts, weather apps, verified government agency social media accounts and other digital communications." Said Talmadge. "Identifying those trusted and reliable sources beforehand will help keep you informed, safe and protected from misinformation and disinformation when it matters the most."
Tips to safeguard your data
Make sure your electronics are backed up on a regular basis
Scan important paperwork, documents and sentimental items such as photos into a digital format. You can do this by using a scanner, a handheld camera or with an app on your mobile device
Once your key information has been saved digitally, back up your data and files to an external hard drive, USB drive or a cloud-based server
Make sure you keep all of your electronics charged up, so you're ready to go prior to any type of emergency
If you're in an area prone to flooding, elevate your electronic devices to a high and dry place, away from windows
Unplug them to protect them from power outages and lightning strikes
In the event of power outages, have a portable charger ready to recharge your devices.
"One more area to watch out for when it comes to putting your digital preparedness kit together is cybersecurity. Phishing and other scams can increase after a disaster," said Chief Information Security Officer of the Commonwealth Michael Watson. "That's why it's so important to access only known websites and social media accounts, such as those of VDEM and the Federal Emergency Management Agency, when you're looking for updates and information.
"These are all great ways to thwart bad actors and hackers who want to take advantage of the chaos that happens around a disaster," said Watson.
Related stories
If you are headed to N.C., S.C. coasts for vacation, be on the lookout for hurricanes
After three recent tornados, Virginians urged to prepare family now