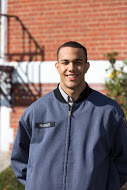 Jeremy Harris can score the ball. What Fishburne Military School postgrad basketball coach Ed Huckaby thinks the 6'7" commit to Coastal Carolina needs to work on is his defense.
"When you get kids at a young age who are really good scorers, a lot of times their high-school coaches don't demand that they become very good defenders. Well, now I'm demanding that Jeremy become a better defender. You've got to be a two-way player, as I tell these guys. I think he'll get to that point," said Huckaby, who has seen Harris take the talented Caissons team as his own early in the 2014-2015 season.
On a roster with several players headed to Power 5 schools, Harris is leading the team in minutes, not to mention wow! moments, like the monster in-the-lane throwdown he had in the 100-82 win over miller school last week that got everybody in the gym off their seats.
The Greensboro, N.C., native somehow flew under the recruiting radar after averaging 15.5 points and 8.0 rebounds per game at Page High School (Greensboro, N.C.). Rated the #17 player in North Carolina's Class of 2014, Harris decided to go the postgrad route after thinking about junior college.
"I didn't want to lose two years of eligibility. Somebody mentioned Fishburne to me, so I looked into it, and Coach Huckaby gave me a chance," said Harris.
It's definitely working out for both sides. Harris was able to solidify a spot in Coastal Carolina coach Cliff Ellis' 2015 recruiting class, and Huckaby has a breakout performer who can play one, two or three for the Caissons.
"He can handle the ball, high IQ, he can score it, extremely athletic. He understands how to play. He understands how to pick up concepts," Huckaby said.
Harris will fit in well at Coastal Carolina, the Big South champ in 2014 that you may remember for the game it gave #1 seed UVA in the NCAA Tournament, leading by as many as 10 points in the first half before a second-half rally pushed the Cavaliers on.
"They play in a mid-major conference, but they have big hopes for their team trying to get to the tournament every year," Harris said.
The next four months for Harris will be working to get a little better every day, on and off the court.
"In high school, I didn't work that hard. Coming here, I feel like I'm working harder, and I'm going to be ready for college next year," Harris said.
– Story by Chris Graham