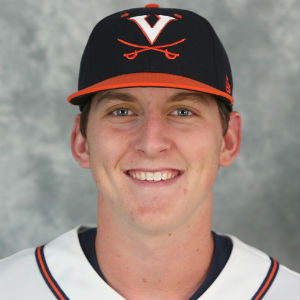 If ever a stage was a perfect fit for a star, it is the College World Series and UVA junior Brandon Waddell.
The 6'3" lefty from Houston, Texas, will get his fifth career CWS start tonight in the deciding Game 3 of the 2015 Championship Series, and to date Virginia is 4-0 in his starts in 2014 and 2015.
In those four appearances, Waddell is 2-0 with a 1.93 ERA in 28 innings, striking out 16 and walking 12 with a 0.68 WHIP and a .233 opponent batting average.
This against a career pitching line of 20-11 in 52 starts with a 3.42 ERA in 305.2 innings, with 244 strikeouts and 89 walks, a WHIP of 1.38 and an opponent batting average of .265.
Those career numbers aren't why Waddell was a fifth-round 2015 MLB Draft pick. It's what Waddell has done on the College World Series stage, where the lights shine brightest, and Waddell has been a supernova in the Omaha night sky.
It will be his second start on short rest in the 2015 CWS, after going five innings on Saturday in UVA's 5-4 win over Florida on four days rest. This time around, Waddell gets the ball on three days rest, meaning it's not likely that we'll see the kind of effort that he was able to give in the 2014 Championship Series, when Waddell got the win with a complete-game five-hitter in a 7-2 Virginia win.
Nathan Kirby, who returned to the Cavs pitching staff on Friday after missing nine weeks due to a lat injury suffered in his April 17 start against Miami, is likely available for an inning or two of bullpen duty tonight.
Josh Sborz will not be available after going four innings and 77 pitches in getting the win in relief in Game 2 Tuesday night.
Who else might get the ball aside from Waddell and Kirby is at question as the day wears on.
"This was kind of how we had mapped it out when we had looked at this about a week ago on what was going to give us the best chance to put our team in a chance to win a championship. And here we are, and Waddell is going to get the ball. But we'll see where we go from there," Virginia coach Brian O'Connor told reporters last night.
The more you think about it, the more you don't want to put it past Waddell to go deeper into this one than you could rightly expect given his workload of late.
He's Big Game Brandon Waddell.
– Column by Chris Graham