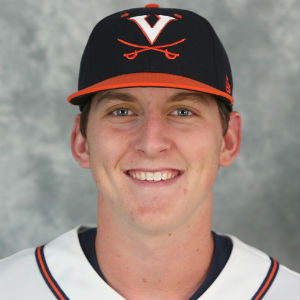 The first inning wasn't going so well for UVA starting pitcher Brandon Waddell. After getting the first two out in the opening frame, Waddell, a fifth-round 2015 MLB Draft pick, hit Josh Tobias on the foot with a 2-1 pitch, then walked J.J. Schwarz on a 3-2 pitch to put two on with two out.
This was against a Florida team that had put up double digits in runs in four of its six games in the NCAA Tournament, with three big scoring games in a row, against Florida State in the Super Regionals and against Miami in the Gators' College World Series opener, in which UF put up a CWS-record-tying 11-spot in the fourth in a 15-3 win.
Buddy Reed worked another 3-2 count off Waddell before grounding out to short. That would turn out to be the last significant at bat off Waddell until the eighth.
You had to wonder which Brandon Waddell would show up Monday night in Omaha: the guy who went 3-5 in the 2015 regular season, or the guy who put in the most memorable and meaningful pitching performance by any UVA pitcher ever in his Game 2 win in the CWS Championship Series against Vanderbilt a year ago.
Turns out it was the second Waddell, who also had to overcome early struggles to pitch Virginia into a do-or-die Game 3 last June, and this June pitched the Cavs one game closer to return trip to the final round in Omaha.
He eventually needed help from closer Josh Sborz, who came in with runners on the corners and no outs in the eighth, pitching out of that jam and then retiring the side in the ninth.
But the story of the night was Waddell, who channeled his inner Tom Glavine, another lefty who could hit 90 on a radar gun on a good day, but controlled opponents with precision on the outside corner against righties with a fastball and a change, basically gnawing opponents to death with pitches that were strikes, but not the kind of strikes that they could do any kind of damage with.
The best hit ball of the night off Waddell turned out to be the first one that the Gators put in play, in the top of the first, with leadoff man Harrison Bader taking a 2-1 Waddell fastball to the warning track in left.
Only four other balls left the infield the rest of the night.
It was that kind of dominating performance against one of the better offensive attacks in college baseball in recent memory.
– Column by Chris Graham