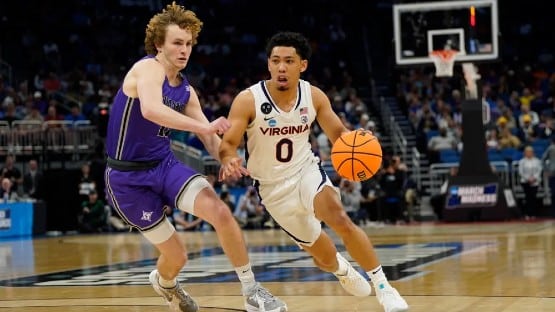 Furman coach Bob Richey was imploring his team to foul. Kihei Clark seemed to expect a foul, then found himself double-teamed against the baseline.
He had an outlet, Isaac McKneely, in front of the Furman bench, but Clark couldn't see over the double-down.
"Couldn't see out of it. Saw Kadin down there. Just tried to throw it up," Clark said. "I knew they had possession, didn't want them to tie it up. But, yeah, probably should've called the timeout. Didn't see the ref right there."
You know what happened next.
Furman center Garrett Hien, a 6'9" free safety, in essence, with Reece Beekman in front of him, open underneath, but also not seen by Clark, and Kadin Shedrick over the top, who was Clark's target.
The pass didn't get anywhere close to Shedrick in the frontcourt.
Hien picked it off, found JP Pegues, who had been struggling shooting the ball all day, but caught the pass and went up for a long three all in one motion.
Release, rotation, splash, ballgame.
"it's just that feeling of, it's there, I think we're going on to the second round or whatever round we call it now, and then it's gone. That's a gut punch," Virginia coach Tony Bennett said.
Virginia had led, two different times, by 12, then rallied from a three-point deficit with a 7-0 run in the final two minutes to lead 67-63 with 19 seconds left.
Even after Hien made two free throws with 12 seconds on the clock, all Virginia had to do, seemingly, was, get the ball inbounds, get fouled, make two free throws, and it would be over.
Things didn't play out that way.
Life is hard. Basketball is hard.
"But you get to choose how you respond, and over time, it'll all be OK. I know that. But I feel for the guys and the staff," Bennett said.
And for Clark, the ACC's all-time winningest player, whose bullet pass to Mamadi Diakite saved Virginia's season in 2019, on the way to the program's first national title.
The 2020 season ended with the COVID shutdown after the 'Hoos closed on a 12-1 stretch, then 2021 came to a close, again, because of COVID, with the team, again the ACC regular-season champ, put on a week-long quarantine after winning its ACC Tournament opener, basically getting off the bus and playing, and losing to, Ohio in a first-round NCAA Tournament game.
Clark returned after the 2022 season saw Virginia left out of the NCAA Tournament, the goal being to get Virginia back to the Big Dance, with a chance to repeat the magic of 2019.
The Cavaliers claimed a share of the ACC regular-season title, but looking back on the season, the team probably peaked back in November, with wins over Baylor and Illinois in Vegas.
Reece Beekman battled ankle and hamstring injuries after the win at Michigan in the ACC/Big Ten Challenge, and then Ben Vander Plas, who emerged as the starter at the five spot in mid-January, tried to play through a back injury that limited his productivity in February, before being lost for good ahead of the ACC Tournament after breaking his right hand in practice.
Virginia was not really at full strength after Nov. 29, but still won 25 games and earned a #4 seed in the NCAA Tournament a year after missing out on the tournament entirely, with pretty much the same rotation, with the additions of a MAC grad student and two first-years.
Clark was a driving force, willing his team to victory on several occasions, though his productivity had begun to wane noticeably down the stretch.
The 5'10" guard had just one double-digit scoring game in his final eight games, a span in which he averaged 7.4 points and 4.1 assists per game – down from his season averages of 10.9 points and 5.4 assists.
His shooting in the final eight: 25.8 percent (16-of-62) overall from the field, 21.4 percent (6-of-28) from three.
It's not the way he wanted to go out, not the way he deserved to go out – the eight-game stretch, and that final pass.
"I've loved coaching him in his career," Bennett said. "He had the most amazing assist to get us to a Final Four. We would not be in this spot without him, all the success, and he's had an unbelievable career. You always look to that last moment, and there's so many what-ifs and who knows. But in time, that will fade, and what he's done, what he's meant – and like I said, I love coaching him and these guys. I feel for all these guys, feel for us, but it's just a hard way to end, but there's also a whole lot of good when you look at the whole picture."
To Clark's credit, he didn't hide behind the media-relations staffers postgame, stoically answering the sets of questions from reporters about how things went down at the end of the game.
He also watched the replay of the final play on his phone, over and over, trying to figure out what went wrong.
"Yeah, no, that doesn't surprise me," Bennett said, when he was told how Clark had handled the postgame. "Like I said, you celebrate his career, and this is part of the game. I've used this line before, but when you step between the lines, you take the good, and you take the hard with it. You try to handle them both with dignity and respect. And he'll do that, and again, would we be in this spot without him? Nope, so here we are, and I'm grateful for him."