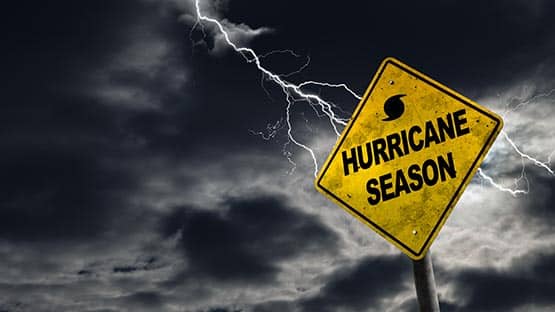 Virginia Governor Glenn Youngkin is joining the voices urging Virginians to prepare now for this year's hurricane season which lasts through Nov. 30.
"It is imperative that Virginians take preparedness seriously," said Youngkin. "Now is the time to prepare your families and property, check your insurance coverage, and identify those trusted sources of information that can help keep you safe."
To help your family prepare, Virginia has released the 2023 Virginia Hurricane Evacuation Guide which gives actions to take in the event of a tropical storm.
The state has also prepared an Inland Impacts Guide which helps prepare families for potential weather even though they are not living along Virginia's coast.
"There is an immense return on investment for taking steps to ensure personal preparedness," said Shawn Talmadge, State Coordinator at the Virginia Department of Emergency Management. "It not only relieves the stress of scrambling prior to an impending storm, but can also save lives, mitigate damages, and shorten the time it takes for individuals and communities to recover."
Virginia's evacuation zones are also available online.
How to prepare your family
Take the time now to review your insurance policy, secure your property, and create a plan that includes arrangements for your pets or those that may need extra assistance.
Know your zone. Evacuation may become necessary depending on the track and severity of the storm. Review Virginia's evacuation zones. Users can enter their physical address in the search bar of the website to view and confirm their designated evacuation zone.
Complete a family communication plan. Prepare for how you will assemble and communicate with your family and loved ones. Identify meeting locations and anticipate where you will go.
Check your insurance coverage. Remember, there may be a waiting period (typically 30 days) for a flood insurance policy to become effective, and be aware that not all storm-related losses, such as flooding, are covered under traditional policies. If you are not insured against floods, talk to your insurance agent, shop private flood insurance, or visit floodsmart.gov.
Renters, beware. If you are a renter, now is the time to ensure you have adequate coverage to protect your belongings. It is also imperative that you have adequate coverage on all insurance policies to ensure it reflects current home values and replacement costs.
Make an emergency kit. Assemble an emergency kit that includes nonperishable food, water, medication, sanitary supplies, radios, extra batteries, and important documents.
Stay informed. Identify where to go for trusted sources of information during emergencies. Check with your local emergency management office to sign up for alerts that go directly to your phone or email. Be sure to monitor local news for watches and warnings in your area and follow directions of local officials.
Power outages are always a concern during weather events. Make sure you have a battery-operated radio available so you can still receive life-saving alerts.
There are many resources available to assist with hurricane planning efforts. Learn more about preparing your business, your family, and your property against hurricane threats at vaemergency.gov/prepare