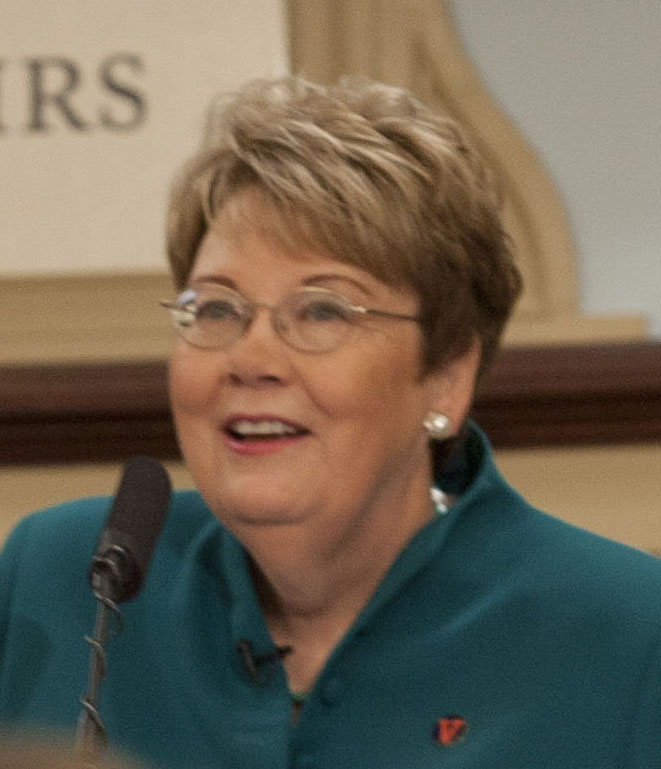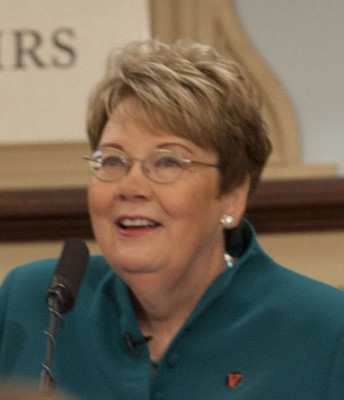 The American Academy of Arts and Sciences has inducted University of Virginia President Teresa A. Sullivan as a member of its 2015 class. The ceremony was held Saturday in Cambridge, Massachusetts.
One of the country's most prestigious honorary societies, the academy is also a leading center for independent policy research. Members contribute to academy publications and studies of science and technology policy, global security and international affairs, social policy and American institutions, and the humanities, arts and education.
Sullivan's fellow inductees include astrophysicist Neil deGrasse Tyson; UVA alumna Rebecca Rimel, president and chief executive officer of Pew Charitable Trusts; UVA alumnus T.J. Jackson Lears, Board of Governors Professor of Religious Studies at Rutgers University; Phillip Knight, co-founder of Nike; actors Audra McDonald and Christopher Plummer; singer-songwriter Judy Collins; and UVA alumna Janet A. Napolitano, president of the University of California System.
Since taking office in 2010, Sullivan has brought to life a number of strategic initiatives. In fall 2012, she launched a planning effort to provide a roadmap for the University as it enters its third century. After gathering input from 10,000 alumni, parents, students, faculty, staff and others, this effort produced a new strategic plan for the University – the Cornerstone Plan.
In spring 2013, Sullivan led the University to the completion of its $3 billion capital campaign and quickly announced plans to raise financial support for three strategic priorities: retaining and recruiting top faculty, restoring the University's Jeffersonian Grounds and securing funding for need-based scholarships.
More recently, Sullivan has been integral in helping make the UVA Data Science Institute a reality. A priority for the future of the University, the institute graduated its first class in May.
During the conception of the Data Science Institute, Sullivan elaborated on the purpose it can serve: "Society's most pressing challenges and nature's deepest mysteries frequently involve large, complex systems. The behavior of these systems is best understood by handling large amounts of data – thus the term 'big data.' To solve our most pressing challenges, we need to develop new ways to acquire, analyze and make sense out of big data."
Sullivan has also been the driver of the University's Bicentennial celebration that kicks off in 2017 – 200 years after the University's cornerstone was laid on the Lawn – and continues through 2026, the 200th anniversary of University Founder Thomas Jefferson's death and 250th anniversary of the signing of the Declaration of Independence.
A respected scholar in labor force demography, Sullivan is the author or co-author of six books and many scholarly articles. Her most recent research has focused on measuring productivity in higher education.
Sullivan came to UVA from the University of Michigan, where she was provost and executive vice president for academic affairs. Prior to her work at Michigan, Sullivan was executive vice chancellor for academic affairs for the University of Texas system, a position she held from 2002 until 2006. She served as faculty member at the University of Texas at Austin from 1981 to 2006 and held several senior leadership positions, including vice president and graduate dean and vice provost.
Sullivan is also a fellow of the American Association for the Advancement of Science. She chairs the Council of Presidents of the Association of Governing Boards and the Council of Presidents of the Association of Public and Land-grant Universities, and is co-chair of the National Research Council's Committee on Improving Higher Education's Responsiveness to Regional STEM Workforce Needs. She is also a member of the Higher Education Advisory Committee that provides guidance for implementation of the Virginia Higher Education Opportunity Act of 2011. In 2013, the governor appointed her to the Innovation and Entrepreneurship Investment Authority.
Since its founding in 1780, the American Academy of Arts and Sciences has elected leading "thinkers and doers" from each generation, including George Washington and Benjamin Franklin in the 18th century, Daniel Webster and Ralph Waldo Emerson in the 19th, and Margaret Mead and the Rev. Dr. Martin Luther King Jr. in the 20th. The current membership includes more than 250 Nobel laureates and more than 60 Pulitzer Prize winners.
Sullivan joins 32 other UVA faculty members elected to the academy, including three who were inducted last year: Donald Hunt, University Professor of Chemistry and Pathology; Peter Onuf, Thomas Jefferson Foundation Professor Emeritus of History; and Stephen Plog, David A. Harrison Professor in the Department of Anthropology. Her predecessor as president, John T. Casteen III, also is a member.