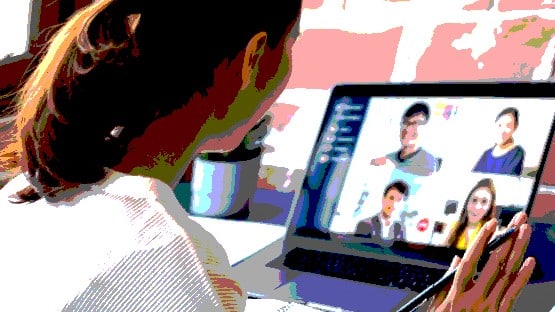 A reboot of "The Office" is apparently in the works, which, how easy will that be, making something out of office life today, in the context of how the work world has changed since the show's original U.S. run from 2005-2013.
AFP is like a lot of offices in the post-pandemic era – in our case, pretty much entirely virtual.
Our staff – three full-timers and four part-timers – all works from home.
Not only do we not work together in an actual office setting, we rarely see even see each other.
It happens that the husband-and-wife part of the team, my wife, Crystal, and me, work together in a home office in Waynesboro, so we see each other all the time.
The other full-timer, Rebecca Barnabi, works out of her home office in Staunton.
We've been trying to get together for a staff meeting once a month for a while now, which seems to work.
I see Rod Mullins, one of our sports part-timers, each week during the NASCAR season because we record a weekly podcast by Zoom.
I also see Jerry Ratcliffe, a sportswriter who covers UVA Athletics, each week for a Zoom-enabled podcast.
Our other two sports part-timers, Scott German and Scott Ratcliffe, I keep up with primarily by text and email.
Not a lot in the way of hijinx involving #TeamAFP comes out of this.
It's a far cry from my early years in the news business.
I worked at The News Virginian from 1995-2000, and that was 40+ hours a week of hijinx – the one older reporter with eight kids hiding out in the office off the clock because he didn't want to go home; the managing editor who clipped his toenails in the middle of the newsroom; the guy who replaced him as the ME who was perp-walked out the door after it was discovered that he'd been spending untold hours each day at his desk looking at porn online.
There would be birthday lunches, goodbye parties, bowling outings.
One time, I was challenged to a one-on-one basketball game by a copy desk editor who tired of me talking about my exploits in noonball at the Y.
The hour-plus argument that I had with the cops reporter who had decided against reporting on the arrests of a group of teens alleged to have violated a parking-lot curfew became legend.
You don't get that when everybody works in a home office.
I'm not saying that's a good or bad thing, just that it's different.
I'd wonder how an authentic "Office" reboot would treat the way office life, such as it is, works in the post-pandemic era.
The Party Planning Committee just isn't the same anymore.