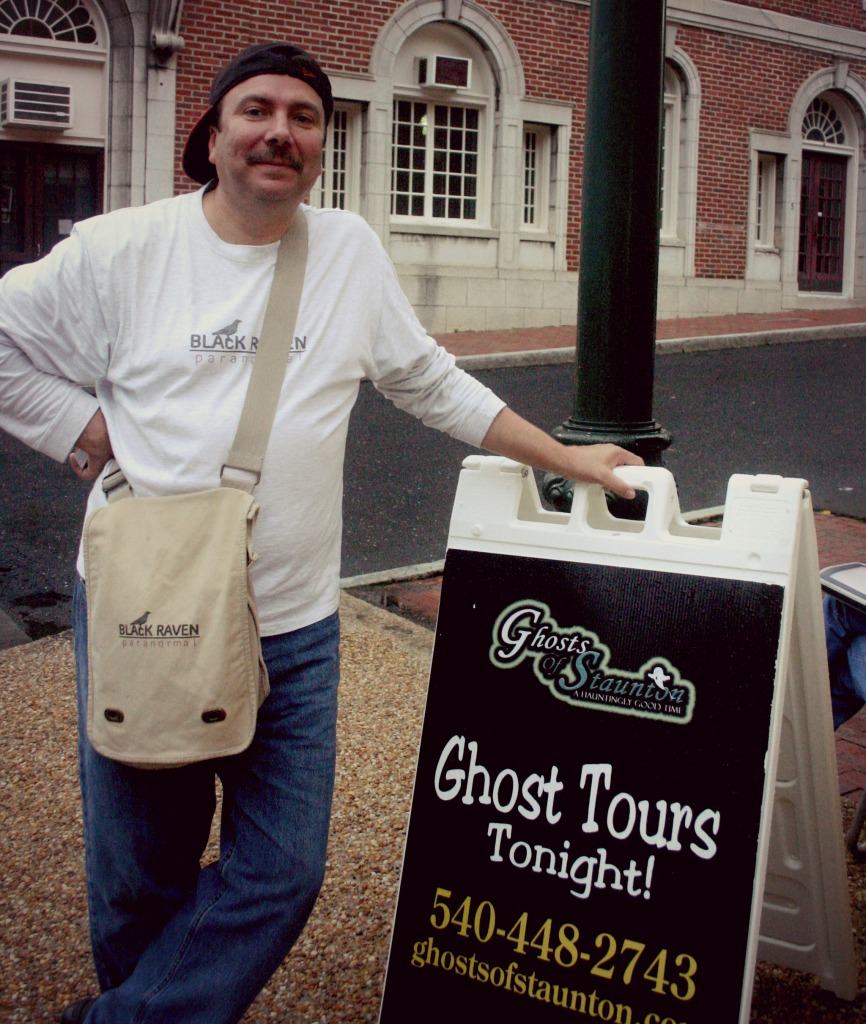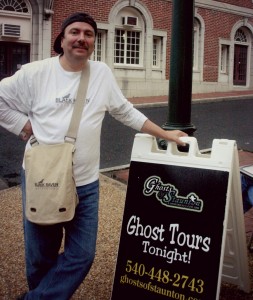 Article from Staunton Insider. Click here for more: StauntonInsider.com.
Have you been on a Staunton Ghost Tour yet?  If you haven't, you are missing out on an evening of history, story-telling, technology, and of course, goosebumps!
I didn't know what to expect when I met with Marty Seibel, owner of Black Raven Paranormal and Ghosts of Staunton. To be honest, I have to confess that I am a non-believer when it comes to ghosts but am the first person to scream like a baby if confronted with anything paranormal.  I can't even watch scary movies.  And so, after making an appointment to meet and talk with Marty, and then join a Staunton ghost tour, I began to wonder if I had gone a bit nuts.  I worried that at best I was going to walk away thinking the whole thing a bunch of hokey and at worst I was going to embarrass myself by running away like a sissy.
Well, neither happened.
What did happen?  I met a lovely new friend who is passionate and joyful about his hobby and respectful of those who have passed so long ago that most of us spare not a moment remembering them.  I enjoyed a beautiful evening under the stars strolling through this special city, learning about our unique history and some of the people who shuffled off this mortal coil with Staunton as the backdrop to their good-byes.  I admit, I got my fair share of goosebumps.  And I came home brimming with new stories and ideas!
Marty Seibel is friendly, smiling, and eager to share the stories he has amassed in his years as a paranormal investigator. In 2000 he began investigating hauntings and has since traveled up and down the east coast staying at some of the most infamous haunted inns, taverns, forts, battlegrounds, lunatic asylums, and houses. Although he appreciates a good scare, and is always excited when the audio/video equipment he uses to record paranormal phenomenon picks up something, he is also respectful of the dead and of our history.
"The shows on TV, like Ghost Hunters, have to put on a show so that people watch," he said.  "We are interested in the history of our city.  We're not hokey or over the top. We want people to have real experiences."  And real experiences do happen!  Several times over last year and this year, women with long blonde hair have had their hair pulled while on a Staunton ghost tour.  "We don't know why," Marty says with a shrug.
He and his team at Black Raven Paranormal have put in extensive hours learning about the deaths that have occured here in Staunton and the stories behind the people and their families.  The stories are incorporated into their walking tour, as is their equipment.  Marty, as well as his tour guides, are accomodating and answer any questions tossed at them from the crowd.  My tour guide for the evening was Dawn Rogers, a spirited (pun completely intended) medium who relished her role as story teller and guide to Staunton's supernatural side.  She believes that the dead who hang around do so for a variety of reasons, including "unfinished business, a reluctance to leave, a fear of judgment, guilt, or because they relate more to the living."
The tours start in front of the By and By Cafe, located at 140 East Beverley Street in Staunton, Virginia.  The tour I went on is called their Spirit Box Depot tour.  The spirit box is a hacked radio that continuously scans through all stations.  The white noise, in theory, allows the dead to communicate with the living. Our walk led us down to the Staunton train station where Dawn told us the tales of those who met their end there.  The most famous death was that of Myrtle Knox, a young aspiring opera star who ran away from home to join a troupe.  That troupe was on a train that derailed here in Staunton in April of 1890.  Myrtle Knox was the only fatality.
After walking around a bit down at the station, and hearing stories, the guide then played recordings of electronic voice phenomenon, never telling her audience what we are going to hear beyond a simple back story.  After listening to each recording, we tell her what we heard.  Staunton Ghost Tours, at Marty's insistence, are always true to letting people have their own experience and they do not want to plant the seed of suggestion that could force people to hear what they are told they will hear.  For me, this was the scariest part of the tour.  I won't reveal what I heard . . . but I will tell you that I ended up with goosebumps in places I never thought could have goosebumps.  Some of the recordings are downright frightful.  One in particular was recorded by Marty's girlfriend on an investigation she was doing with a group in Fort Mifflin. The recording was terrifying enough that, upon hearing it, Marty's girlfriend declared she would never return to Fort Mifflin for another investigation.  And she hasn't.
September and October are the perfect time to take a Staunton ghost tour! In addition to the traditional walking ghost tours through the city of Staunton, Marty and his group are also offering some seasonal, haunted fun!  You can join members of Black Raven Paranormal as they conductactual investigations in Staunton.  You can go downstairs into the cellar of Montgomery Hall (an infamously haunted location here in Staunton) for ghost stories and a spirit box demonstration conducted in darkness.  Or, join a tour of the Dejarnette Sanitorium and learn about the tortured souls who took up residence there. (And still might be there in spirit!)
I don't think you can ask for a more unique way to spend an evening in Staunton!  If you aren't one already, you may walk away a believer!
Where to find out more about a Staunton ghost tour:
Visit the Ghosts of Staunton website and the Black Raven Paranormal website.  
Like them on Facebook: Ghosts of Staunton and Black Raven Paranormal
Call them at 540-448-2743 . . . if you dare.