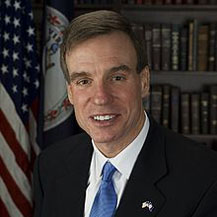 U.S. Sen. Mark R. Warner (D-VA) asked the Department of Homeland Security (DHS) on Friday for an explanation of exceptionally long lines and wait times commonly experienced by passengers arriving on international flights at Virginia's Dulles International Airport. According to U.S. Customs and Border Protection's (CBP) own website, wait times of 90 minutes were common almost every day between Dec. 15, 2013 and Jan. 15, 2014. In fact, travelers arriving at peak times on several of those days experienced waits of over two hours.
"Many constituents who have contacted our office mention unacceptably long wait times, and many also have questioned peak-time staffing of only a handful of the CBP processing stations available at Dulles," Sen. Warner wrote. "We can do better than this. Unacceptable wait times are not the right way to greet tourists, workers and other travelers bringing their business to Virginia. Reducing wait times for business and international travelers at Dulles is a matter of economic necessity if the national capital region wants to remain a significant economic driver. "
In his letter, Sen. Warner noted that Congress recently provided CBP with additional resources to fund an additional 2,000 officers nationwide, and he strongly encouraged additional and more flexible CBP staffing at Dulles to minimize unacceptable delays. Sen. Warner also asked for specific information on current CBP staffing levels at Dulles, and questioned whether CBP has made an effort to synchronize work schedules with international flight arrival times. Finally, Sen. Warner asked DHS and CBP to consider greater use of technology, and the adoption of performance metrics to better measure CBP's progress.
"I understand every step we take must be guided by ensuring the safety of the traveling public and the overall security of our country. To be sure, CBP personnel perform an important role in our homeland security, and staffing alone will not solve all of the problems. Yet I believe CBP should consider implementing flexible staffing models and increase public transparency of the process," Sen. Warner said. "Dulles serves as an international gateway to the national capital … and continued inefficiencies in the Dulles entry process could drive away new jobs and investment in the region, and jeopardize Dulles's position as one of the preeminent economic drivers for this region."
The nonprofit U.S. Travel Association, which produced a 2013 report detailing the severe economic consequences that result from often lengthy wait times experienced by millions of travelers due to the CBP entry process, praised Sen. Warner's leadership to address this problem.
"U.S. Travel applauds Senator Mark Warner for standing up for travelers," said Roger Dow, President and CEO of the U.S. Travel Association. "For too long, passengers have had to suffer through unacceptably long lines at America's major international airports – and it's hurting our economy. America can do better, and Senator Warner is exercising his oversight authority to ensure that we do."
"As our name implies, international travel is a fundamental and rapidly growing part of Dulles International Airport," said Christopher U. Browne, Dulles airport manager and vice president of the Metropolitan Washington Airports Authority. "We appreciate Sen. Warner's efforts to improve the international arrival process at Dulles and across the county. It is critical to the long-term strength of the airport and the national capital region that, on arrival in the United States, international visitors have a positive first impression and U.S. citizens have a quick and easy return to the country."
Tweets and Facebook posts from Sen. Warner's constituents about wait times at Dulles are available here. Sen. Warner's letter is available here.