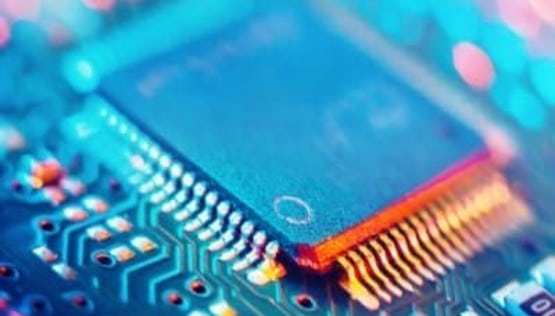 Electric toothbrushes, calculators, airplanes, satellites. Nearly everything that has an "on" switch contains a semiconductor.
A year ago, President Joe Biden signed into law the CHIPS and Science Act, co-authored by Virginia Sen. Mark R. Warner. The legislation makes a nearly $53 billion investment in U.S. semiconductor manufacturing, research and development and workforce, and creates a 25 percent tax credit for capital investments in semiconductor manufacturing.
Invented in the U.S., only 12 percent of the global supply of semiconductors is produced in the country today. Investments in research and development fell to less than 1 percent of GDP from 2 percent in the mid-1960s at the peak of the space race.
The CHIPS and Science Act aims to change this by driving American competitiveness, making American supply chains more resilient, and supporting our national security and access to key technologies. In the last year, companies have announced more than $231 billion in commitments in semiconductor and electronics investments in the United States.
"I fought to pass the CHIPS and Science Act because it's good for our supply chains, our families and our national security to make semiconductors here at home. In the year since, the law has bolstered innovation, helped America to compete against countries like China for the technology of the future, and created good-paying manufacturing jobs that will grow the middle class," Warner, chair of the Senate Select Committee on Intelligence, said.
Warner co-hosted the CHIPS for Virginia Summit last month, convening industry, federal and state government, and academic leaders for a series of strategic discussions on how to propel Virginia forward in the booming U.S. semiconductor economy.
"Over the past few years, microchip shortages have impacted nearly every segment of our economy, contributed to supply chain delays, and led to higher costs for consumers. But with the bipartisan CHIPS and Science Act now law, we are taking steps to make sure that more semiconductors are made in America," U.S. Rep. Abigail Spanberger of Virginia said.
According to Spanberger, a former CIA case officer, the legislation is an economic imperative and an issue of national security.
"By creating more manufacturing and research jobs here in America, we can stay ahead of foreign competitors like the Chinese Communist Party. Additionally, we can lower costs for families and prevent critical shortages of cars, computers, farm equipment, cell phones, appliances and more," Spanberger said.
Virginia is ready for semiconductor jobs, she said, and to help the U.S. dominate the 21st Century.
"That's why I'll keep advocating for Virginia companies and communities to get their fair share of CHIPS and Science Act funding," Spanberger said.
Congresswoman Jennifer McClellan of Virginia is a member of the House Science, Space and Technology Committee.
"The CHIPS and Science Act is reinvigorating America's leadership in technology, boosting domestic-made semiconductors, tackling supply chain issues and bolstering our nation's scientific research. Across the nation, new semiconductor manufacturers create good-paying jobs, strengthen our local and national economies, and help ensure America's technology independence," McClellan said.
Funding for the science portion of the bill has been underfunded, according to McClellan because of Speaker Kevin McCarthy and extreme Republicans slashing funding, including support for NASA, NSF and DOE.
"As a member of the Science Committee, STEM education and workforce development are top priorities for me. I was disappointed to see that critical STEM education programs at NSF were only funded at about 70 percent of their authorized level in FY23. This includes a shortfall in funding for a program that aims to increase STEM opportunities for HBCUs, MSIs, and high-need school districts. If we do not invest to build up our scientific enterprise and STEM workforce, other countries will surpass us," McClellan said.
House Democrats are committed to fully funding the science provisions in the legislation "to the necessary levels to ensure America remains on the cutting-edge of research, innovation, and technology. I will continue to collaborate with my Science Committee colleagues to fully fund the remaining portions of this bill to usher in a strong future for American science and technology."