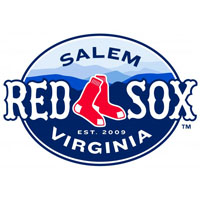 The Salem Red Sox, the Advanced-A Affiliate of the Boston Red Sox, announced today that General Manager Ryan Shelton has been promoted to President and General Manager of the club. Shelton, the recipient of the 2015 Calvin Falwell Executive of the Year Award in the Carolina League, was named General Manager of the Red Sox in August of 2013. He joined the staff in Salem in April 2013 as Vice President of Ticket Sales and Service.
Shelton began his sports career in 2008 as an Inside Sales Representative for the Florida Marlins and quickly established himself as a rising star in the industry. He worked his way up through stops with the Augusta Lynx, South Carolina Stingrays, and Manchester Monarchs, where he served as the Senior Director of Ticket Sales.
"When we promoted Ryan to General Manager nearly two and a half years ago we never dreamed that he would have such a positive impact in such a short amount of time," said Tim Zue, managing director of the Salem Red Sox. "As President of the team, Ryan will continue to oversee all aspects of the club and we are confident that he will continue to lead the team to new heights."
During his two-year tenure as General Manager, the team has increased total attendance by 32 percent, including 11 sellouts compared to just one over the five previous seasons combined. Under his leadership, the club has seen significant increases in season ticket sales, group tickets, and corporate partnerships. Shelton has also helped the club rededicate itself to customer service and has more than tripled the number of in-game promotions, resulting in a dramatically improved fan experience.
In addition, Shelton has helped introduce new community initiatives including a comprehensive military appreciation program, enhanced player involvement through a Community Service Player of the Month program, and a wide-ranging fundraising program that has raised more than $250,000 for local non-profit organizations.
"I am so proud of what our staff has accomplished over the past two years and am honored that Fenway Sports Management has placed its trust in me as the new President of the club," said Shelton. "I'm excited for this new chapter in our organization's history and we will continue to reimagine what the Salem Red Sox impact can be in our great community."
In addition to Shelton's promotion, the club has also promoted Nathan Blum to Vice President of Ticket Sales and Service. Blum joined the Red Sox organization at the beginning of the 2014 season as the Director of Ticket Sales and Service. In his first season in Salem, Blum executed a game plan that resulted in an overall attendance increase of 22 percent over the previous year, largely driven by a 71 percent increase in season tickets and a 42 percent increase in group/suite tickets.
In 2015, Blum helped to achieve an 89 percent increase in season tickets, more than tripling the total in the season prior to his arrival. Group/suite tickets increase by 15 percent and the organization set new heights in overall ticket revenue for a second straight year.
Blum was recruited by Shelton out of Morehead State University to join the Manchester Monarchs Inside Sales Program in 2012. He hit his 24-week goals in only 12 weeks and was promoted to Group Sales Account Executive shortly thereafter. After Shelton's departure from Manchester, Blum joined the NBA's Phoenix Suns for one season as a Group Sales Account Executive. He excelled in Phoenix, achieving 151 percent of his ticket quota.
After a successful season with the Suns, Blum reunited with Shelton in Salem as Director of Ticket Sales and Service, joining the team on Opening Night 2014.
"Nathan is someone I have immense trust in. Over the last two years we have watched him grow into this role and the results speak for themselves. This promotion will complete a truly outstanding senior leadership team with Nathan alongside the two existing Vice President of the club, Vice President/Assistant General Manager, Allen Lawrence, and Vice President of Operations, Tim Anderson," acknowledged Shelton.