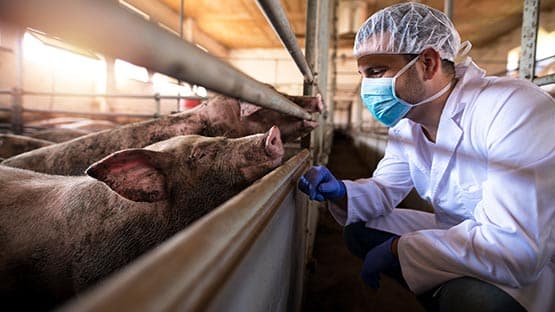 The U.S. is facing an alarming shortfall of veterinarians to treat livestock and poultry in rural areas.
The U.S. Department of Agriculture has designated more than 500 counties as having shortages of food animal veterinarians. In 2022, Virginia counties included Albemarle, Amherst, Bedford, Campbell, Fluvanna, Louisa and Nelson.
That has consequences for public health, food safety and economic growth in agricultural communities, according to a new report commissioned by Farm Journal Foundation.
Approximately 3-4 percent of new veterinary school graduates currently pursue livestock and poultry practice areas.
Dr. Amanda Weakley-Scott, a large animal veterinarian in Central Virginia, has been chipping away at her student loan debt since graduating from Virginia-Maryland Regional College of Veterinary Medicine in 2014.
"My college classmates working with small animals are making double or almost triple what I am," she said. "But we all came out of school with the same debt load."
Weakley-Scott lived frugally in school. Now other agribusiness ventures pad her family's income as they repay the debt. And they're not looking for loan forgiveness.
"I'm more than happy to pay for my education," she said. "I fully understood what I was doing when I took out the loans. But paying up to 9.5 percent interest is what's killing some of us."
The report said shortages stem from several factors, including soaring education debt that has outpaced potential earnings in rural localities. This drew veterinarians to companion animal practices in non-rural areas where incomes often are higher.
VFBF policy supports programs and incentives that help recruit and retain large animal veterinarians in rural Virginia, like the USDA's Veterinary Medicine Loan Repayment Program, which awards funds to practitioners who cover rural areas.
"What we need in food animal medicine is someone to be there with boots on the ground, looking at the animals directly," Weakley-Scott said.
The decline in food animal veterinarians heightens risks for food safety, disease outbreaks and decreasing rural economic growth, said report author Clinton Neill of Cornell University.
"In essence, veterinarians protect the whole of the human and animal population," Neill said. "So, it is critical that we have a strong pipeline of practitioners to work in rural areas."