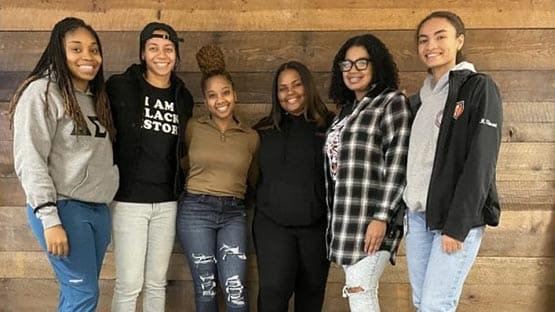 Students at the Virginia-Maryland College of Veterinary Medicine are working to change the statistic that shows only 1.2 percent of veterinarians in the United States are Black.
The students have established a chapter of the National Association of Black Veterinarians or NABV, working to provide education and promote inclusion in the field.
Chapter vice president Takia "Kia" Williams is beginning dialogue about diversity in veterinary medicine. Williams is a member of the Class of 2025 at Virginia Tech.
"In the food animal industry, there's not a lot of people who look like me," said Williams. "I look forward to breaking down the barriers not only within food animal medicine, but also within veterinary medicine as a whole and having open conversations about diversity and inclusion amongst all.
"When an industry like vet med is stifled by homogeneity, it can breed a culture of leaders often inflexible to change. I made it a goal to bring as much awareness, support, and change to societal norms because the future of the veterinary profession is dependent on our ability to serve society as a whole."
Chapter president Taylor Emery, also a member of the Class of 2025, hopes NABV provides a sense of community and an inclusive environment for Black students in the veterinary field.
"We want to give options for education and extra resources for those who may not have that, being a minority in this field," said Emery. "We also want to be a social and safe space."
The chapter intends to continue to hold social events for fundraising and community-building. Its members plan on visiting local schools, not only to get students excited about veterinary medicine, but to show them diversity in the field. Additionally, the organization plans on working with minority veterinarians to provide mentorship opportunities for students.
The chapter's parent organization focuses on getting more Black students into the veterinary profession through outreach, networking opportunities, information and more.
The veterinary college's new chapter is the 13th formed in the United States.
"I'm definitely grateful for how fast this has been able to turn around and how we're able to make our mark, especially in our first year," said Emery.