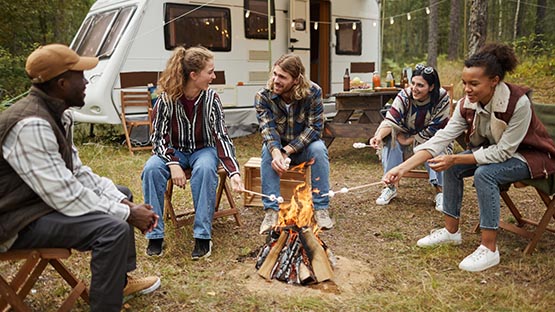 If you've always wanted to be on television, Camp Cardinal RV Resort in southeastern Virginia might be your chance if you are original, outlandish and memorable.
The RV Resort is behind a national casting call to join the cast of "Extended Stay," a reality show that will profile a group of young people who will work and live at the waterfront campground that sprawls 38 acres along the Severn River and spills into the Chesapeake Bay.
If you've seen the series "Below Deck," which focuses on the triumphs and challenges of the staff aboard a yacht, you'll get the gist behind "Extended Stay," which Camp Cardinal owner Ryan Cox plans to pitch with a pair of sizzle videos that will be produced once staff and initial guests are selected.
"Think 'Below Deck' meets 'The RVers,'" Cox said. "We're looking for a diverse cast of characters who can fully express what makes them or their families unique. Creativity rules the day. We want applicants to show us why we should cast them on the show."
Hayes, Virginia, is located in Gloucester County, roughly an hour from Virginia Beach to the east and from Richmond to the west and 165 miles southeast of Washington, D.C.
Each episode will feature a different group of RVer guests, ranging from retired baby boomers to millennials with young families who interact with the staff that will live at the scenic campground that offers swimming in an outdoor pool, a splash park and playground, fishing, kayaking, basketball and volleyball courts and themed nighttime activities in a rustic setting.
To apply
A short online application is available to potential cast members.
Applicants must submit video that shares their name, age, education, background and employment as well as hobbies, favorites movies, books or music and their response to, "What is truly unique and special about you?"
Applicants are also asked to submit video that offers a funny story from their past or a personal confession, regret or secret.
Those applying to be campground workers must submit additional video that explains why they want the job, how they feel about being filmed and/or featured on reality TV along with their responses to their previous best and worst jobs.
Applicants must be 18 years old and above.
Eligibility requirements are available online.
For more information, visit extendedstaycc.com