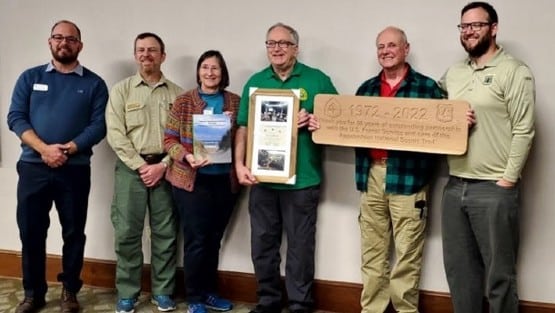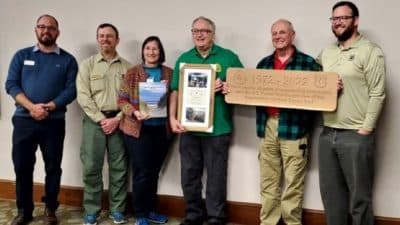 The Appalachian Trail Club Volunteer of the Year Award 2023 was given to club President Lee Lohman.
Lohman received the award at the Appalachian Trail Conservancy Southern Partnership meeting from the Virginia Regional Partnership Committee (RPC), which represents eight clubs in the Commonwealth, the Appalachian Trail Conservancy, the U.S. Forest Service and the National Park Service. Lohman's club is based in Norfolk.
Every year, one volunteer from each region is recognized for outstanding contributions to Appalachian Trail stewardship.
"We appreciate all the work done by the TATC and are especially grateful to have the help of a volunteer as passionate as Lee Lohman on the Forest. This award is well deserved," Lauren Stull, the Glenwood-Pedlar District Ranger, said.
Lohman, president of the club for two years, brings his talents, strengths and dedication to his role as president. He has played a crucial role in recruiting volunteers to the club, which has increased by 20 percent in the last two years. Last year, Lohman organized multiple commemorative efforts for the club's 50th anniversary. He is also active in trail maintenance trips and workshops on the George Washington and Jefferson National Forests.
The ATC maintains a section of the Appalachian National Scenic Trail and the Mau-Har Trail in Three Ridges Wilderness and trails in St. Mary's Wilderness.