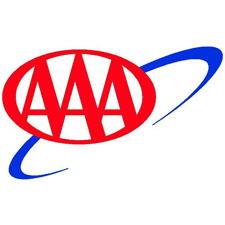 At long last! Tomorrow, the national average retail price of a gallon of self-serve regular gas will drop below a dreaded psychological barrier – the $3 a gallon threshold – from the West Coast to the Gulf Coast to the East Coast. It ends the longest sustained period of high gasoline prices in the history of the United States, an unbroken string of prices above $3 or more per gallon that lasted for 1,409 days. It's long-awaited good news for American consumers and drivers, who naturally and mutually harbor a deep-seated aversion to paying sky-high gasoline prices beyond the $3 mark when it comes to getting us where we want to go.
"Lower gas prices are quite the early holiday bonus this year for commuters, road warriors, and travelers that are looking for the next extended road trip," said Martha Mitchell Meade, AAA Mid-Atlantic's Manager of Public and Government Affairs.  "Drivers nationwide are now saving at least $250 million per day on gasoline purchases, compared to earlier this summer when the national average reached $3.68 per gallon," added Meade.
The retreat in gasoline prices marks the lowest U.S. average price for regular gasoline for any week since December 2010. Historically, the last time the national average was this cheap the San Francisco Giants won the 2010 World Series crown a couple of months before, for the first time in the last five years (as they did in 2012, and just did in 2014), Katy Perry had three consecutive number one singles from an album, and astronomers announced the discovery of  a red-hot extra-solar planet, Wasp 12b, that's located 1,100 light-years away from earth and 40 percent more massive than Jupiter.
Gas Prices as of October 31, 2014
(Self-serve Regular)
| | | | | |
| --- | --- | --- | --- | --- |
| Location | Price Today | Price Yesterday | Month Ago | Year Ago |
| National | $3.00 | $3.01 | $3.33 | $3.28 |
| Virginia | $2.78 | $2.79 | $3.13 | $3.12 |
| Washington, D.C. | $3.23 | $3.24 | $3.52 | $3.43 |
| Maryland | $2.95 | $2.96 | $3.32 | $3.29 |
| West Virginia | $3.09 | $3.10 | $3.42 | $3.39 |
Notably, as of Friday, the cost of a gallon of regular gasoline has dropped 7 cents in the past week. It is 33 cents cheaper than a month ago, and 28 cents less expensive than the same time last year. Putting that into perspective, consumers are now spending $250 million less per day on their gas purchases, compared to a year ago. The national average has now dropped for 36 consecutive days for a total of 34 cents per gallon, the AAA Daily Fuel Gauge Report reveals. It is the lowest nationwide average price that American consumers have seen since December 22, 2010.
All in all, the current nationwide price of regular gasoline is $1.12 (or 27.2 percent) below the highest recorded price in United States history of $4.11, which was set on July 7, 2008. On average, each motorist typically uses around 588gallons of gas a year in the course of driving an average 12,000 miles a year, calculates AAA. It means the average motorist spent a sizable chunk – $2,052 – of his or her hard-earned income on motor fuel purchases last year, prices averaged $3.49 a gallon during the 12 month period. That compares to $2,116.80 in 2012, reveals AAA Fuel Price Finder.Off-putting, it prompted middle-and lower-income-earning consumers to actively seek out ways to reduce their gas consumption, and to consciously alter their gas-guzzling ways or their daily driving habits, in some cases.
Lower gasoline prices will likely fuel consumer spending, boost retail sales, and even increase demand elasticity for gasoline, some energy analysts and economists predict. Most consumers will likely have more change in their pockets for that fill-up during the upcoming busy Thanksgiving travel season.
Will the decline in pump prices spur an increase in holiday travelers a month from now?  It remains to be seen if this is an outlier. Historically, however, the Thanksgiving holiday is a less expensive holiday for travelers, compared to other holidays, explains AAA. Last Thanksgiving, when the national average price of a gallon of gasoline was at the cheapest level of the year, an estimated 38.9 million Americans traveled by automobile to their holiday destinations. By the way, that salient figure represented ninety percent of all Thanksgiving travelers countrywide.
If the trend of lower prices continues over the next two months, consumers will have more cash in their wallets and pocketbooks for Christmas presents ahead of the perennially busy Christmas shopping season, notes AAA Mid-Atlantic. Last year, ninety-one percent of travelers or an estimated 85.8 million Americans traveled 50 miles or more from home by automobile during the Christmas and New Year's holidays, an increase of 0.9 percent over the same period in late 2013 and early 2014.
As a truism, retail gasoline prices characteristically decline this time of year. Typically, after Labor Day and especially well into November and December, pump prices usually drop with the temperatures, as consumer demand reaches a nadir – a low point – for the year. But the rapid and drastic decline in pump prices is rather atypical this time around. Gasoline prices are shadowing the sharp drop or backwardation in crude oil prices, which comprise approximately two-thirds of the price consumers pay for gas. In the past four months crude oil prices have fallen nearly 23 percent in value. Yet, there is often a lag between a drop in crude oil prices and a concomitant dip in retail gasoline prices.
Absent any natural catastrophes, unfortunate or emergent consequences, or man-made factors, fuel prices will continue to fall, in all likelihood, as long as crude oil prices decline, notes AAA. "Falling crude oil prices have been largely responsible for the decline in retail gasoline prices," the U.S. Energy Information Administration (EIA) noted earlier this week.