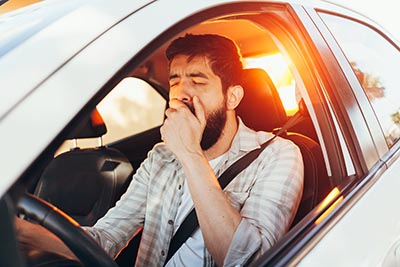 The arrival of Daylight Saving Time this weekend means one less hour of sleep, a darker morning commute and the potential for more sleepy drivers on the road, according to AAA.
On Sunday, at 2 a.m., clocks in the U.S. are scheduled to spring forward one hour.
While there has been federal legislation introduced to eliminate the practice of changing clocks twice a year, nothing has been approved to date. If the current Sunshine Protection Act were to pass and President Joe Biden signed it, it would take effect on Nov. 5 – making the current clock change the last one – and adopting daylight saving time year-round.
In the meantime, AAA is reminding drivers to adjust their sleeping habits along with their clocks, to stay alert behind the wheel and to look out for pedestrians, especially children who will be on their way to school and may be hard to see.
"When the time changes, sleep cycles are interrupted and drivers can be more tired than they realize," said Morgan Dean, AAA Mid-Atlantic spokesperson. "Losing one hour of sleep takes an adjustment, and drivers need to prepare by getting more rest, especially on Sunday."
The Centers for Disease Control and Prevention says that one in three Americans is sleep deprived, sleeping less than the recommended minimum of seven hours daily and one in 20 has fallen asleep at the wheel in the past month.
"Knowing the warning signs of drowsiness can help drivers avoid dozing off behind the wheel." said Dean. "Symptoms include having trouble keeping your eyes open, drifting from your lane and not remembering the last few miles driven."
To avoid drowsy driving, AAA recommends that drivers:
Travel at times of the day when they are normally awake
Prioritize sleep, getting at least seven hours a night
Avoid medications that cause drowsiness or other impairment
For longer trips, drivers should:
Schedule a break every two hours or every 100 miles
Travel with an alert passenger and take turns driving
Do not underestimate the power of a quick nap. Pulling into a rest stop and taking a quick catnap – at least 20 minutes and no more than 30 minutes of sleep – can help to keep you alert on the roads
AAA recommends the following:
Slow down. Speed limits in school zones are reduced for a reason. A pedestrian struck by a vehicle traveling at 25 mph is nearly two-thirds less likely to be killed than a pedestrian struck by a vehicle traveling just 10 mph faster.
Stay alert. Drivers should always avoid distractions while driving, but it's particularly important in school zones and residential neighborhoods.
Headlights on. Turn on the vehicle's daytime running lights or headlights – even during the day – so children and other drivers can see you more easily. But, don't forget to turn them off when you reach your destination to maintain your battery life.