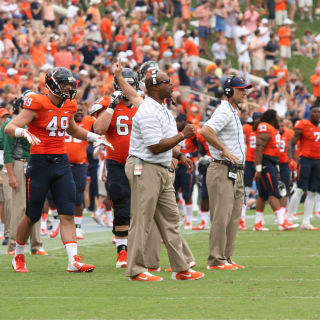 At 4-6, on a four-game losing streak, Miami was probably the last must-win game for Mike London as the embattled UVA coach tried to fight his way off the hot seat.
Virginia wins 30-13, and it wasn't as close as the score would seem to indicate.
So has London saved his job?
The thinking here is, clearly, yes.
Whether you agree that a team that seems to have eight-win talent and is sitting at 5-6 with one game left, at archrival Virginia Tech next Friday, has shown enough in terms of "improvement," to use the term that athletics director Craig Littlepage said before the season would be his metric for determining the future of the football program, this is improvement.
The 'Hoos have been in 10 of their 11 games this season, only failing to be competitive in the 35-10 loss at streaking Georgia Tech a few weeks back. Arguably, UVA was a play or two away in losses against UCLA, BYU, Duke and UNC, with signature wins over Louisville, who put up a headline-grabbing win earlier today over Notre Dame, and now Miami, which is itself sitting at a disappointing 6-5 after the 30-13 beatdown that it got at Scott Stadium Saturday night.
After a 2-10 finish in 2013 that saw the Cavs blown out in losses to Clemson and Oregon and really only in a couple of their other losses, it could be that anything other than another season of butt-whuppins would have been an improvement in 2014. But this Virginia team is clearly several levels better than it was in 2013.
Win or lose at Virginia Tech, and a win is a distinct possibility, given how the Hokies, coming off an embarrassing 6-3 double-overtime loss at Wake Forest Saturday that dropped them to 5-6 on the season, have been reeling of late, London is back in 2015.
Again, like it or not, and a lot of you probably won't like it, but it's probably time to accept it.
– Column by Chris Graham