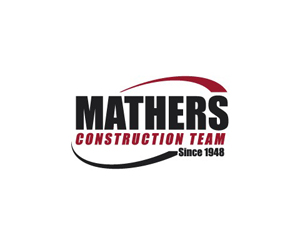 Mathers Construction is in the spirit of giving and has joined the Valley Businesses Give Back effort to raise money and gather donated food for the Blue Ridge Area Food Bank. In 2012, the collaborative collected 23,465 pounds of food and more than $4,000 for the Food Bank. The Mathers team collected more than 1,200 pounds of food surpassing the company's goal for the effort.
The 2013 effort runs from Nov. 18 to Dec. 18.
"We try to do things to help in the community throughout the year," said Teresa Gauldin, President and CEO of Mathers Construction. "Every family deserves to have a nice Christmas meal with their family, and we happy to do our part to make this a reality for families who need a little extra help this holiday season."
In addition to Mathers Construction, other participating businesses include Augusta Health, Best Buy, Burris Logistics, Cargill of Dayton, Domino's Pizza, Hershey, Hollister, Lantz Construction Company, MillerCoors Shenandoah Brewery, NIBCO and REO Distribution.
The Food Bank has said the most-needed items for families include peanut butter, cereal, canned soup and stews, canned fruits, juice, canned meats, boxed macaroni and cheese, paper products, personal care items, spaghetti sauces, pasta and rice.
Monetary gifts are also accepted. Checks should be made payable to the Blue Ridge Area Food Bank. The Food Bank can provide 4 meals with a $1 donation.
Mathers is asking the community to take part in the effort to help it grow even more in 2013. Items for the Food Bank may be dropped off at Mathers Construction at 435 Essex Avenue in Waynesboro or any participating business.
For more information on Mathers Construction, call (540) 932-2300 or visit www.mathers-team.com
To view photos from the 2012 effort, please visit the Mathers Team Facebook page at https://www.facebook.com/MathersTeam.
For more information on the Blue Ridge Area Food Bank, contact Greg Knight at the Blue Ridge Area Food Bank at (540) 213-8421,[email protected], or visit the Food Bank online at www.brafb.org