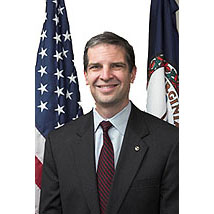 This much is clear: ever since the budget standoff earlier this year, Governor McAuliffe has been looking for a way to expand Medicaid over the objections of many in the General Assembly, and the legislature has stood firm in opposition.
I've outlined my objections to Medicaid expansion in the past, and don't want to focus on that today; suffice it to say that we need to reform our health care system to ensure greater access and affordability, but that Obamacare is not the way to go—as evidenced by the latest revelation, that 250,000 Virginians are losing coverage due to ACA regulations.
Today I want to address another question that I know is of great concern to many of you: whether Governor McAuliffe has the authority to expand Medicaid unilaterally, or whether the General Assembly may have, whether inadvertently or by design, granted him that power.
The answer to both question is a resounding "no." Here's why—in fact, here are three reasons why:
During the budget debate earlier this year, my conservative colleagues and I supported the "Stanley Amendment," which read:
That notwithstanding any other provision of this act, or any other law, no general or nongeneral funds shall be appropriated or expended for such costs as may be incurred to implement coverage for newly eligible individuals pursuant to 42 U.S.C. § 1396d(y)(1)[2010] of the Patient Protection and Affordable Care Act, unless included in an appropriation bill adopted by the General Assembly on or after July 1, 2014.
I don't believe the Governor had any authority to expand Medicaid unilaterally to begin with, but this amendment was intended to put the issue to rest, and to put the Governor on notice that the General Assembly would not tolerate any end-run on the legislative process.
Recently, some have expressed concerns that the language of the Stanley Amendment might be insufficient, and that, with enough parsing, the language might be read to allow expansion subsequent to the adoption of a new budget bill (one adopted after July 2014), even if it did not contain an appropriation for medicaid expansion. In other words, perhaps any funds appropriated—for any purpose—in a new budget bill could be captured by the Governor for a purpose other than what the General Assembly intended.
I understand how this concern arose; while I do not believe that such an action would be at all permissible under the Stanley Amendment—I don't think any loophole exists—when you have a Governor who pledged to expand Medicaid with or without the General Assembly, upon a legal rationale to be identified later… well, let's just say that I get why there might be concern about any perceived ambiguity in prohibitory language.
The good news is, not only is the Stanley Amendment still an absolute bar on unilateral gubernatorial expansion of Medicaid, but we have other, even stronger ones as well.
Take a look at this budget language, from 4-05.3 (1):
No state agency, or its governing body, shall alter factors (e.g., qualification level for receipt of payment or service) which may increase the number of eligible recipients for its authorized services or payments, or alter factors which may increase the unit cost of benefit payments within its authorized services, unless the General Assembly has made an appropriation for the cost of such change.
Once you cut through the legalese, you'll see that this language expressly forbids any governmental action that expands eligibility for any program—which is basically the definition of Medicaid expansion. Any attempt to increase the number of people eligible for Medicaid is simply off limits unless the General Assembly puts money for it—expressly for it—in the budget.
Finally, there's one other piece of existing budget language, which was underscored by some technical amendments we adopted yesterday, which is important to keep in mind given the budget cuts the General Assembly just authorized:
Changed Expenditure Factors: The Governor is authorized to reduce spending authority, by withholding allotments of appropriations, when expenditure factors, such as enrollments or population in institutions, are smaller than the estimates upon which the appropriation was based. Moneys generated from the withholding action shall not be reallocated for any other purpose, provided the withholding of allotments of appropriations under this provision shall not occur until at least 15 days after the Governor has transmitted a statement of changed factors and intent to withhold moneys to the Chairmen of the House Appropriations and Senate Finance Committees. (4-01.2 (b)(1))
That means that, if the economy picks up and we withdrew more money than necessary for agency budgets, the Governor has no authority to reallocate the withheld funds for any other purpose—including, of course, medicaid expansion.
Given the Washington-style politics being practiced in Richmond these days and Governor McAuliffe's clear desire to expand Medicaid regardless of the wishes of the General Assembly, anything is possible, which is all the more reason to remain vigilant against attempts to exceed constitutional authority. But the Governor knows full well that the budget we adopted gives him no legitimate opportunity to do so. It completely closes the door on any possible legal justification for unilateral executive action—and any effort to unilaterally expand Medicaid would clearly violate the unambiguous prohibitions adopted by the General Assembly.
Mark Obenshain is a Harrisonburg state senator.