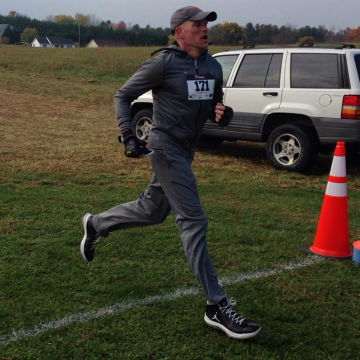 I'm running the Richmond Marathon on Saturday. No, I can't believe it, either, nor do I know exactly why, what has possessed me, or what I aim to achieve, ultimately, aside from proving a point, whatever that point may be.
I can say that it all started innocently. New Year's 2014, I weighed 275 pounds, and like a lot of people my age, early 40s, just assumed it was my fate to be supersized.
Also like a lot of people, I set out on a New Year's resolution to lose weight. My goal, modest, was to drop 50 pounds, with 225 being basically what I graduated high school at.
I remember being excited at the first 10 pounds. By 50, which came much quicker than I had expected, by mid-April, I had moved on past struggling to do 10 minutes on level one on the elliptical at the gym to being able to get a good, sweaty hour in.
One evening I read an article about how people should set their goals a little higher than being able to master gym equipment. The author put out the challenge to try to do 25 pushups, to try to do a pullup, and the big one for me, to try to run a mile.
And so it was that on a sunny May day I set out to the track at Waynesboro High School to try to run a mile.
I wasn't even halfway through the first lap before I first had the feeling that I was about to die. I pushed to four laps, and checked that off the list.
One mile, done.
Except that I wasn't done. I'm not one who accepts being mediocre at something too well. I could do better than that suck-ass mile.
The next mile was hard, too, but I was able to add a fifth lap.
Then one day at the gym, bored after lifting weights for an hour, I got up to three miles.
I didn't time myself, but if I got them in less than an hour, I'd be surprised.
Little by little, I ran myself into better and better shape. I was able to do 10 miles on my birthday in June, in two hours and 20 minutes.
That, I felt, was going to be my crowning achievement as a runner. Ten miles!
Later in the summer, I signed up for a 5K, and to my surprise, I came in first in my age division, finishing with a 7:47/mile pace.
Now I was hooked. I did a 10-miler in November, and finished it in an hour and 25 minutes, shaving nearly an hour off my birthday time.
I ran all winter, and this spring decided to set my sights on the Richmond Marathon.
Now, let me say, I'm the type of person who thinks driving 26.2 miles is going on a long trip. Running 26.2 miles? Yeah, I'm crazy.
I even Google Mapped it out to see how far 26.2 miles really is. From my house in Waynesboro, I'm 26.5 miles to the John Paul Jones Arena in Charlottesville.
Yeah. I'm running from my front door to JPJ on Saturday. I'm a lunatic.
I'm also nervous as hell with six days to go (from this writing) to race day. I've trained for months for this, and my times are getting better every week. I ran a 10K last month in a 6:56/mile pace, and last week I was cutting 6:40 miles, 1:15:00 for 10 miles, and did a 22.1-mile training run in 8:27/mile to try to stretch myself out.
I'm aiming for 8:00/mile for the marathon on Saturday, which would get me to the 3:30:00 range.
But of course, this is my first marathon, so in the end I'll accept just crossing the finish line standing up, no matter what the time is.
It hasn't been all that long since 200 yards was too much of a challenge, after all.
– Column by Chris Graham