Story by Chris Graham
[email protected]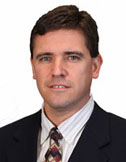 Bill Lazor has worked for some of the biggest names in the NFL – Dan Reeves, Joe Gibbs, Mike Holmgren. It was the chance to work with Mike London drew him back into the college game.
"I'm excited to be a part of what he's going to build here," said Lazor, 37, most recently the quarterbacks coach with the NFL's Seattle Seahawks.
The Cornell grad was not retained by Seattle when new coach Pete Carroll was hired to replace Jim Mora. Mutual friends in the football business put Lazor, a record-setting quarterback at Cornell in the 1990s, in touch with London, who had held off on filling his offensive-coordinator job while reportedly wooing two other NFL assistants, Bill Musgrave and Rip Scherer, to come to Charlottesville.
Lazor flew to Central Virginia on Jan. 25 to talk with London in person and was announced as the new coordinator on Jan. 28.
His offensive philosophy – pro-style, with some shotgun looks but the quarterback playing a lot more under center than was the case at Virginia in 2009 under former offensive coordinator Gregg Brandon.
"First and foremost, it's going to be an extension of what Coach London believes in," said Lazor, hinting that he will be willing to take bits and pieces from what he has done on offense in his career and meld that with what London has in mind from his perspective to make what he called "the University of Virginia's offense."
"I think it's very important to be explosive," Lazor said. "There are a lot of different ways to do it, but in football today you've got to find ways to score, and being explosive is part of that. And it's also very important to be physical. It doesn't matter how many times you decide to run the ball in a game, but when you do, you'd better be physical, and you'd better be able to come off the ball."
He had good tutors, you could say, in Reeves, Gibbs and Holmgren, all of whom knew how to build offenses that could consistently move the ball down the field. Lazor cites Gibbs as his biggest influence. He spent four years on the staff with Gibbs with the Washington Redskins in the 2000s.
"If you tried to pin him down, he would tell you what's important is to run the football and throw it deep for big plays," Lazor said. "I wouldn't always say that's going to be the case on every play, but I spent a lot of time with someone who really understood how to play offensive football and how to build a team – and how to be physical and how to have a great attitude on offense."
Lazor said he developed a "picture in (his) mind" of what football should be at UVa. in his four years living in Northern Virginia while working for Gibbs in Washington.
"To have the opportunity to come here, I thought, was just fantastic.I really believe that the University of Virginia should be a good football program. It should win football games," Lazor said.