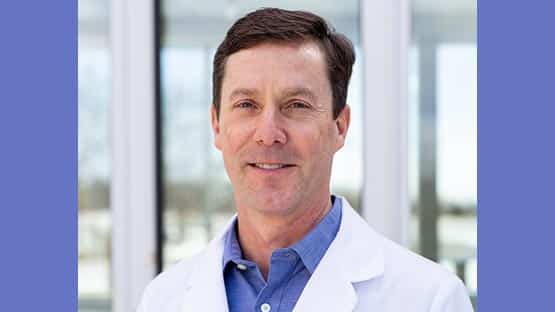 Robert Kidd, Pharm.D., Ph.D., a stalwart of Shenandoah University's pharmacy program, is the new dean of SU's Bernard J. Dunn School of Pharmacy.
Kidd, who has served as interim dean of SU's pharmacy school October 2021, moves into the role full time effective immediately.
Kidd has been a faculty member in Shenandoah's School of Pharmacy since 1998, when the school's first graduating class was beginning its third year in the program.
A highly competitive national search was conducted for the position, and Kidd's appointment was strongly supported by both the Shenandoah's search committee and the campus community.
"I am honored to be selected as the dean of Shenandoah University's Bernard J. Dunn School of Pharmacy," Kidd said. "And I am excited to work with everyone in the school and university to continue to advance the school, the university, and the pharmacy profession."
Kidd holds a Bachelor of Science in Biochemistry and Cellular Biology, a Master of Science in Pharmaceutical Sciences and a Doctor of Pharmacy (Pharm.D.) from the University of Tennessee, as well as a Doctor of Philosophy (Ph.D.) in Pharmaceutical Sciences from The Ohio State University.
His research interests are pharmacokinetics and pharmacogenomics, and he frequently involves students in his research projects.
Kidd has authored over 90 peer-reviewed publications, book chapters, abstracts and national presentations.
He is a two-time recipient of the American Association of Colleges of Pharmacy SU teacher of the year award and is a fellow of the American Foundation for Pharmaceutical Education.
In 2020, Kidd led the development and implementation of Shenandoah University's SARS-CoV-2 pooled saliva surveillance testing program, which played a central role in maintaining the health and safety of the university and the surrounding community throughout the height of the COVID-19 pandemic.
"Dr. Kidd is an essential part of the Bernard J. Dunn School of Pharmacy and is held in high regard by his colleagues and students," said Shenandoah Provost Cameron McCoy, Ph.D. "Dr. Kidd has displayed tremendous leadership during his time as interim dean, and I'm excited to see that continue."
Shenandoah University's Bernard J. Dunn School of Pharmacy has 41 faculty members and more than 450 students enrolled in its traditional and non-traditional Doctor of Pharmacy programs, as well as dual degree programs.