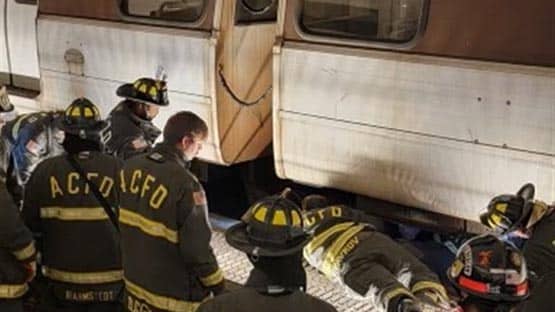 An individual is in critical condition after being extricated from beneath a train in Arlington County Thursday night.
Arlington County Fire Department units responded to a call at 8:25 p.m. at Crystal City Metro station for a report of an individual struck by a train.
According to the ACFD, units arrived on scene quickly and found one person underneath a train, conscious and alert.
Crews immediately began rescue operations, sending personnel onto the track bed and underneath the train to safely remove the patient.
The patient was extricated from beneath the train just before 9 p.m. and loaded into an awaiting ambulance.
The patient was transported to an area hospital in critical condition.
"Rescue operations like the one our crews faced on March 9 can be extremely challenging," said Arlington County Fire Chief David Povlitz. "I am extremely proud of our responders and WMATA safety partners for their ability to perform such a technical operation safely, proficiently and quickly."