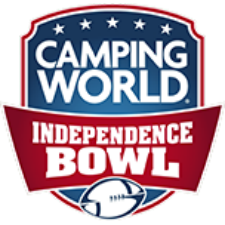 Virginia Tech coach Frank Beamer returns to the scene of the crime, in a manner of speaking, Saturday at the Independence Bowl.
It was 1993 in Shreveport, La., that Beamer coached his first postseason game, a 45-20 win over Indiana, starting a streak of 23 straight bowl appearances for the Tech football program.
The Hokies (6-6) need a win Saturday against Tulsa (6-6) to extend their streak of winning seasons to 23.
Vegas has installed Virginia Tech as a 14-point favorite over the Golden Hurricane, who didn't hold up well in games against top opponents like Oklahoma, Houston, East Carolina, Memphis and Navy, losing each by double-digits.
Virginia Tech offense vs. Tulsa defense
Hokies: Michael Brewer is playing his last game at Virginia Tech. The senior threw for 1,359 yards with a 57.5 percent completion rate in six starts, with 12 touchdowns and six interceptions. The Hokies average a modest 367.4 yards per game of total offense, 151.4 yards per game on the ground. The emergence of freshman tailback Travon McMillian (961 yards, 5.2 yards per carry) has been helpful down the stretch. Tech has a nice trio of targets for Brewer: Isaiah Ford (63 catches, 937 yards, 13.9 yards per catch, 10 touchdowns), Cam Phillips (46 catches, 549 yards, 11,9 yards per catch) and Bucky Hodges (36 catches, 492 yards, 13.7 yards per catch, six touchdowns).
Hurricane: Stoppable force, meet movable object. Tulsa gives up 531.5 yards per game and is equally bad against the rush (238.5 yards per game, 5.2 yards per carry) and against the pass (293.0 yards per game, 8.2 yards per pass). Tulsa's D did force 22 turnovers, leading to 99 Hurricane points.
Tulsa offense vs. Virginia Tech defense
Hurricane: Tulsa averages 502.8 yards per game on offense, most of it coming through the air, with quarterback Dane Evans throwing for 3,958 yards with a 63.0 percent completion rate, 22 touchdowns and eight interceptions. D'Angelo Brewer (732 yards, 4.9 yards per rush) and Zach Langer (714 yards, 17 touchdowns) anchor the backfield. Keyarris Garrett is Evans' primary target through the air, with 88 catches for 1,451 yards and seven TDs. Josh Atkinson is a great second option (65 catches, 932 yards).
Hokies: Bud Foster's D is giving up 353.8 yards per game, but Tech has been surprisingly vulnerable to the run this year (180.0 yards per game, 4.5 yards per carry). Foster will, as usual, load up the box and dare Evans to try to beat him deep with a defense giving up just 173.8 yards per game in 2015.
Special Teams
Hokies: Joey Slye was 21-for-28 on field-gpal tries, including an otherworldly 12-of-15 from 40-49 yards. Slye turns drives that stall out into points, and is a weapon. Punter A.J. Hughes is a weapon as well, averaging 43.0 yards per punt, with 18 of his punts downed inside the 20.
Hurricane: Redford Jones was 16-of-24 on field-goal tries, but just 3-of-7 beyond 40 yards. Dalton Parks averages 41.0 yards per punt with 19 of his 63 punts downed inside the 20.
How This One Breaks Down: Virginia Tech vs. Tulsa
Virginia Tech will control the game by controlling the line of scrimmage. Travon McMillian is the MVP with a 100-yard day, and Dane Evans is harassed into a subpar day with a host of Hokies in the backfield from Foster's blitz packages. This one isn't even close. Virginia Tech 34, Tulsa 13
– Compiled by Chris Graham