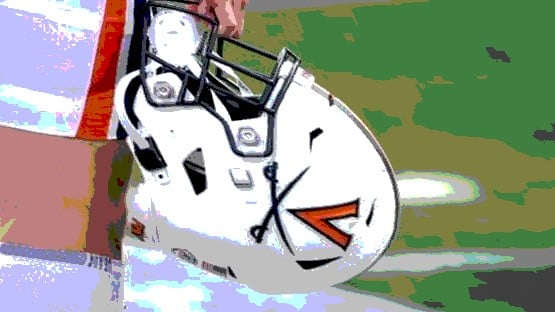 Virginia's best chance of tasting victory in 2023 might be this Saturday afternoon in Chestnut Hill, where the 0-4 Cavaliers will square off against 1-3 Boston College (2 p.m., The CW).
UVA owns the nation's second-longest losing streak (7 games) dating back to last October. The struggling Eagles are slim 3-point favorites as of Tuesday afternoon, and will be looking to avoid a three-game drought of their own. Both teams will be fighting for their first ACC win.
After a home loss in the season opener against Northern Illinois, BC gave then-third-ranked Florida State all it could handle two weeks later, falling 31-29. Last week, things got ugly on the road, as Louisville hung 56 points on the Boston College defense, including posting season highs in the ACC in yards per catch (21.6), passing yards per attempt (18.5) and yards per offensive play (9.4). The Cardinals scored on each of their first seven possessions.
"I think we have a really good plan going forward," BC head coach Jeff Hafley said in his weekly press conference. "Our guys are excited to get back to work and get that last game, get that taste out of their mouth. But it's not for a lack of how we prepared and how we practiced.
"I think some of the guys will tell you [last week] was our best week of practice. It was some of the hardest we practiced and they were ready, and for whatever reason it was, we didn't execute at a high enough level to win. And certainly we didn't coach well enough to win. But we're excited. We're excited for the opportunity we have against Virginia on Saturday."
The Eagles' only win came in Week 2 against Holy Cross, the No. 6 team in the country in the FCS rankings. Should Virginia's losing skid extend to eight games, next up is a home matchup against unbeaten William & Mary (4-0), currently ranked at fifth in the FCS poll.
Getting back to the Eagles, who are putting up 28 points and 400 total yards per contest, they are led by Central Florida transfer quarterback Thomas Castellanos — he leads the team in both passing and rushing. The Waycross, Ga., native has thrown for 909 yards and 8 touchdowns (he's been picked off twice and sacked six times) while running for 280 yards and 3 TDs on 51 carries.
His most reliable target has been fellow sophomore Lewis Bond, who leads the Eagles with 246 receiving yards and 4 touchdowns.
"Lewis isn't just a good player," said Hafley, who is 16-23 overall in his fourth season at the helm. "He's a very smart player and he's a guy that you can trust as a coach, so you know where he's going to be. He's going to be in the right spot. He understands the defense, he's going to put himself in position to make the play, and I think Thomas now has a feel for these wideouts. Can you trust Lewis?
"So when things break down, or maybe even if it's not his first read, I think Lewis is going to get a lot of targets because we know he's going to catch the ball, and the thing that he's doing probably better than I've seen is his run after the catch. I mean, he's breaking tackles consistently."
Not far behind is grad transfer Ryan O'Keefe (also from UCF), who has registered 214 yards and a score on a team-high 20 catches. Joseph Griffin Jr. (174 yards), Jaden Williams (113 yards) and Dino Tomlin (111 yards) are also guys to keep an eye on in the passing game.
Aside from Castellanos, Western Kentucky junior transfer tailback Kye Robichaux has been a weapon in the backfield, rushing for 206 yards and a pair of touchdowns.
Defensively, BC senior linebacker Vinny DePalma leads the team in tackles with 34 (12 solo), tied for fourth in the league in that category. The Eagles have only gotten to the opposing quarterback four times on the year, with junior defensive end Neto Okpala recording half of those sacks (2.0).
"We've got to focus on the next game, use that type of hurt, and use that to impose our own will on another team," Okpala said of the Louisville loss. "Me personally, it really made me mad, so I want to use that type of anger to use that against UVA."
Senior DB Elijah Jones has been disruptive in the secondary with a team-best four passes defended. The Eagles haven't logged an interception, but have forced 3 fumbles and recovered 4 of them.
UVA's one-two punch
They'll be facing the Wahoo receiving duo of Malik Washington and Malachi Fields, who have combined for 726 yards (over 180 per game). Washington leads the ACC in several receiving categories — receptions (28), yards (459), catches per game (7.0) and yards per game (114.8), and ranks in the top 10 in two others (eighth in touchdowns with 3; 10th in yards per catch with 16.4).
Although he hasn't yet found the end zone, Fields has been a steady contributor as well. He's fourth in the conference in receptions (22), fifth in receptions per game (5.5), eighth in receiving yards (267) and ninth in receiving yards per game (66.8).
Who will be throwing them the ball remains up in the air. First-year quarterback Anthony Colandrea has filled in admirably — albeit with some expected freshman mistakes — for the injured Tony Muskett, who was banged up in the season opener against Tennessee.
Muskett was named the starter once again on Tuesday during Tony Elliott's weekly briefing, and shows up as QB1 on the depth chart, but that's nothing new. The Monmouth transfer was also announced as the starter in each of the last three weeks, but when game time rolled around, it was Colandrea who trotted out with the first team.
Muskett has been available "in an emergency situation" all three weeks, according to Elliott, but from all indications, it looks like he'll finally make his return from injury against the Eagles.
"So each week, Muskett is getting better," Elliott explained. "As I said, I want to do what's best for Tony. My philosophy is, you don't lose your starting job because of injury.
"Each week, we go into it with Tony being the guy until we get to the game and we assess what the situation is. I think he's much closer. I anticipate that Tony will be ready to play this week, and that's how we'll roll."
Ultimately, neither team could be hungrier to get back into the win column, and the frustration from their fan bases continues to grow.
"I don't think anybody in that locker room believes we're an 0-4 football team," said Elliott, "but our actions and the things that we did is a result of where we are. But we believe that we can continue to improve. We believe we can compete. That's what it takes."
Both Elliott and Hafley can likely feel their respective seats getting a little warmer with each negative result, but both remain committed to getting things turned around.
"We've got some really loyal fans, and I get the disappointment right now," Hafley admitted. "They want us to win, and there's no one who wants to win more than this team, myself and the staff. … These kids need the support. I understand the frustration, I do, and I'm not happy about it, but I am going to do something about it, as is this team.
"So to [the Eagle fans], I would say stick by your team, stick by your school. It's what makes BC special. I think BC is different. They can be vocal. I get it. I do. We're not winning. It doesn't mean turn your back on your team and these kids, because they deserve it. And it's Parents Weekend, so I expect it to be a great crowd, and we need to give them a lot to cheer about, and I'm excited to do that."
Injury report
Elliott said that Kam Butler (shoulder/pectoral) had an MRI on Monday night and will not play this weekend, adding that he is not sure of the severity, but hopes it's not season-ending.
Bryce Carter is one of the guys up front who Elliott said will be ready to step right up and fill in.
"He's made plays for us and he's going to have to make a lot more plays," the coach said. "I think he's ready to accept the challenge.
Also not expected to play on the defensive side are Langston "Lex" Long and Paul Akere, while Ben Smiley is questionable and linebacker Josh Ahern is probable.
On the offensive side of the ball, Penn State grad transfer Jimmy Christ was listed on the depth chart at right tackle behind Ugonna Nnanna.
For BC, Hafley said there were a few minor bumps and bruises, but didn't reveal any significant injuries.
"We look pretty good," he said. "There's some guys banged up. … Everybody else I think right now will be practicing full tomorrow."