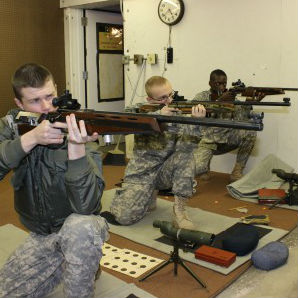 Story and Video by Chris Graham
Brian Draper and his teammates on the Fishburne Military School rifle team would soon be taking aim with rifles at targets 50 feet away.
In the here and now, it's the calm before the storm.
"They get dressed, get their lanes set up, and then they'll actually lay down and almost fall asleep, and some of them will fall asleep. Draper is famous for it. He falls asleep almost every time," said Brandon Mawyer, the coach of the Fishburne rifle team, as his marksmen were preparing for their turn in the 2016 Virginia Military Schools Rifle League state championships, held Feb. 9 at the rifle range on the Waynesboro FMS campus.
A few hours later, the Fishburne team would clinch its second straight state championship and sixth state title since 1999 with a team score of 2,011, outpacing rival Massanutten Military School, which scored 1,982 to take second.
To Draper, a team co-captain, the success would come about because the cadets sacrificed the individual in favor of the team.
"At the end of the day, you can score with all bulls-eyes, but if your teammates aren't brought up to speed, the targets mean nothing," said Draper, a senior from Washington, D.C.
The secret to success in shooting sports is probably not a secret at all. The Fishburne rifle team holds two-hour practices each weekday, with extra work on weekends in the run-up to championship meets.
Thousands of targets, one shot at a time: that's how you win a state championship.
"It takes a lot of discipline," said Matthew Stepura, a freshman from Cary, N.C. "You have to be focused, and you need to be down there every single day so that you can make sure you're improving. That's probably the most important part to me."
But that's just the physical aspect to the sport. The mental approach is probably the hardest part, according to Hunter Wren-Russ, a junior from Tehachapi, Calif.
"If you mess up a shot, you can't let it get to you," Wren-Russ said. "You've got to stay focused and take a deep breath. That goes into preparing for it, too. You stay away from any type of sugary foods, you keep yourself calm. You've just got to learn how to block everything out and get yourself on focus and on target."
Mawyer, the owner of Defensive Solutions, where he teaches firearms training and safety classes, stresses a clear frame of mind as being the key to hitting the targets.
"The biggest thing for us is to teach them breathing, teach them how to breathe in and out, get the heart rate down, so that nothing is affecting their movement other than their breathing. The slower we get their breathing, the better they're going to shoot. If we can get them to tune stuff out, it's generally better," Mawyer said.
That can be easier said than done, in a sense. In the moment, a shot can miss a target, and it's how one responds to that failure that can determine the next shot.
"If you come in with the wrong mindset, you already know what your outcome is going to be," said Jacob Owners, a senior from Suffolk, Va., a co-captain who along with Draper was named to the four-member all-state team for his performance at the state championship meet.
"For the individual, you have to prep yourself and prime yourself to make sure you do to the best of your ability. You're not thinking of outside things. You're focused on the here and now, what's going on with the shot, what you're doing, and everything else is excluded," Owens said.