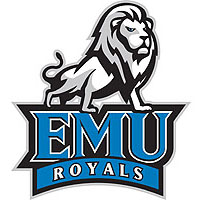 In the book of Luke, Jesus uses the parable of the Good Samaritan to explain what it means to love your neighbor as yourself.  In the parable, a man, who was most likely a Jew, was walking to Jericho, got robbed, beat, stripped of his clothes, and was left half dead by the side of the road.  A priest and a Levite saw the man and choose to pass by him on the other side of the road.  But a Samaritan, who was practically hated by the Jews, was the one who stopped, took pity on the man, bandaged his wounds, put the man on his own donkey, brought him to an inn and took care of him.  Jesus instructs us to love our neighbors as ourselves, and this parable illustrates that everyone, even our enemies, should be seen as our neighbors.
After demonstrating how to love your neighbor as yourself while competing in a cross country meet, Jolee Paden (St. Joseph, Ill./St. Joseph-Odgen), has been named this week's Royals Athlete of the Week as EMU's own "Good Samaritan."
Last weekend the Royals cross country teams ran at the NCAA D-III Pre-Nationals in Mason, Ohio.  Both the men and women's teams ran well, each finishing 11th and near the top third of their respective fields.  Jolee achieved her personal record on the 6k course, finishing in 107th place out of 321 talented runners.  She charted a time of 23:30.70, which is 35.90 seconds faster than her previous 6k record.  The remarkable part about her PR last week is that it easily could have been 30 seconds lower.
While Jolee was running on that warm and sunny Ohio day, she encountered another runner almost unconscious lying on the ground on a secluded back loop on the course.  There was nobody around when Jolee got there, but a number of other runners had probably already passed this girl and choose to just continue running.  Jolee, who grew up with a strong Christian background, instinctively stopped and thought: W.W.J.D., What Would Jesus Do?
"I could have stopped and run a good time, but I thought, 'this girl might die and how terrible would that be?'" described Jolee.  "Or I could stop and see if she is okay, have a slower time, and the world would still move forward."
EMU's "Good Samaritan" went with the latter choice – calling for help and waiting about 30 seconds until help arrived on the scene before continuing her race.  Jolee, a junior captain on the team, revealed an honorable example of what it looks like to not only to be an athlete with sportsmanship, but also a selfless Christian.
The experienced runner stays busy on campus as the president of the local Fellowship of Christian Athletes chapter and as a pastoral assistant.  Being a Christian student-athlete all her life has pushed Jolee to write her own devotional book this summer,Spiritual Runner: A Runner After God's Own Heart, which is now published and available on Amazon.com for purchase.
In this devotional book, Jolee marvelously brings together the similarities of spiritual discipline and running discipline.
"As I wrote, my heart went out to those who put so much emphasis on temporary performances and temporary glory," explained Jolee, "when there is a world of full satisfaction and joy to be found in competing and living with a greater purpose – as a disciple of Jesus Christ."
With a combination of her new devotional book and her double major in rec and sports leadership and business administration, Jolee would love to impact other runners' lives so they can learn that there is significantly more they can get out of running than just endurance.
"I have found running to be more of a spiritual experience and a platform for growth mentally, physically and spiritually," Jolee said.