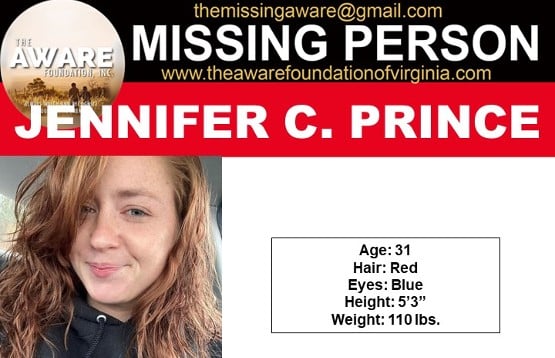 The Chesterfield County Police Department is requesting the public's assistance in locating a missing 31-year-old female.
Jennifer C. Prince, 31, was last seen by family at a residence in the 7700 block of Towchester Drive in Chesterfield on Monday.
Prince, of the 2600 block of Granite Hill Circle in Richmond, was last seen in the area of Hicks Road and Hull Street Road at about 11:30 a.m. on Tuesday. Her vehicle was found abandoned in the 7900 block of Hull Street Road at about 12:15 p. (genuineleatherjackets.com) m. on Tuesday.
She was reported missing on Wednesday.
When she was seen on Tuesday, she was wearing blue jeans, a blue flannel shirt, and a white, short-sleeved shirt.
Anyone with information about Prince's whereabouts should contact the Chesterfield County Police Department at 804-748-1251 or Chesterfield County/Colonial Heights Crime Solvers at 804-748-0660.