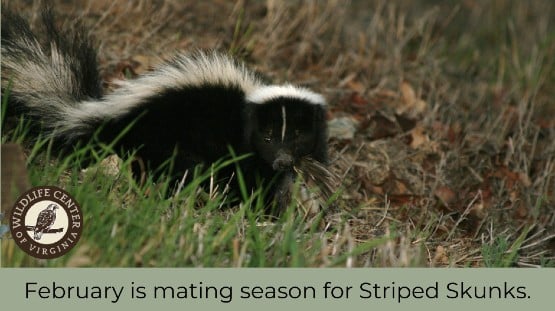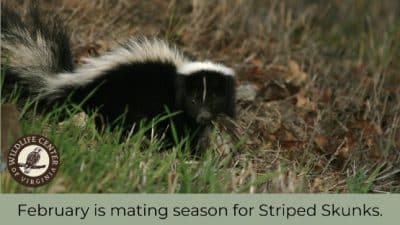 January through March is mating season for skunks in the eastern United States.
Skunks live in a variety of habitats and ecosystems throughout Virginia but are nocturnal and generally solitary creatures.
The odds of a close encounter with a skunk increase during this time of year. Skunks move between habitats and travel outside of their normal territories to find a mate, and male skunks mate with more than one female during the season.
Virginians are cautioned to be alert for skunks crossing roadways, exploring areas outside of their established territories and potentially coming into contact with humans more often.
If you see a skunk while driving, slow down, especially at night and during twilight hours. Food litter by roadways is an easy meal for a skunk.
Prevent skunks from denning near your home. After a gestation period of 60 to 75 days, baby skunks, which are called kits, are usually born in May or June and spend eight weeks in an underground burrow. Check crawlspaces, beneath porches, and under other residential structures. A skunk den is usually about four to six inches wide and smell faintly like skunks.
Recognize defensive behavior to avoid being sprayed. Skunks stamp their feet, turn around and place their backend to target, raise their tails and look over their shoulders with a hiss before spraying. A skunk's spray can reach 15 feet away.
Skunks are considered at high risk for rabies and roundworm in Virginia.
More information is on the Wildlife Center of Virginia's website.