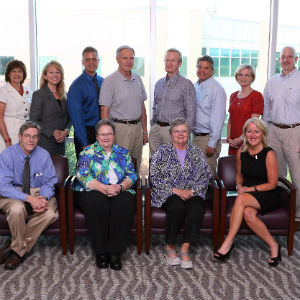 The Augusta Health Foundation, the charitable arm of Augusta Health, has announced its inaugural Board of Directors.
"We are so pleased with the caliber and enthusiasm of this new board of directors," said Beverly "Cheri" Moran, Chair of the Augusta Health Foundation Board.  "Augusta Health is a community-based health system and having these members of our community engaged in the outreach work of the Foundation is essential to its success."
The following members of the community have agreed to serve on the Augusta Health Foundation Board of Directors for a three-year term:
Judy Burtner, active community volunteer who currently serves on the vestry of Trinity Episcopal Church, Western State Hospital Advisory Council, Headwaters Soil and Water Conservation Board, and Shannon Hill Townhouse Association, and as president of Augusta Health Hospice of the Shenandoah. Ms. Burtner was an active member of the Augusta Health Foundation Case for Support Taskforce.  She is retired and lives in Staunton.
Robin Crowder, Ed.D currently serves as the Program Director and Faculty for the Learning, Technology and Leadership Education Department at James Madison University, following six-years of service as Superintendent of Waynesboro Schools. Dr. Crowder and his wife, Cathy, live in Waynesboro.
Lora Hamp, JD is an attorney with the firm of Allen & Carwile, PC. She specializes in estate planning, estate administration and elder law. Prior to joining the firm of Allen & Carwile, Ms. Hamp practiced law in the Private Wealth Services Division of McGuire Woods in Charlottesville. She is a former board member for the Virginia Association on Aging and the Governor's Commission on Community Service & Volunteerism. Laura, her husband, Mike, and family live in Waynesboro.
Christopher Heck, MD is a physician with Carilion Family Medicine in Waynesboro since 1999. He also serves as medical director for both Summit Square Retirement Community in Waynesboro and King's Daughter's Nursing and Rehabilitation Center in Staunton. Dr. Heck and his wife, Monica, live in Waynesboro.
Brad Johnson is the Director of the Augusta Health Cancer Center, having joined the staff in 2010.  He is an advocate of cancer prevention and education as well as treatment.  Brad served as an active member of the Augusta Health Foundation Case for Support Taskforce and serves as co-chair of the Employee Campaign Committee.  Brad and his wife, Bonnie, live in Fishersville.
Robert Kyler, MD is a Radiation Oncologist with Shenandoah Valley Radiation Oncology Associates. He has been an active member of the Augusta Health Medical Staff since 1993. Dr. Kyler and his wife, Nancy, live in Staunton.
James Perkins, Ed.D served as the President of Blue Ridge Community College for 20 years. Under his leadership, the Blue Ridge Community College Foundation was expanded to provide for new campus facilities, student scholarships, and new academic programs. He has served as a leader and board member for many local nonprofits. Dr. Perkins and his wife, Debra, live in Waynesboro.
Arona Richard, is an active community volunteer who serves on the Augusta Health Board of Directors and is chair of Augusta Health's Community Benefit Committee. She has also served on the Augusta Regional Free Clinic Board, with the Woodrow Wilson Presidential Library Special Events Committee, the Red Cross and other nonprofits.  Arona and her husband, Doug, live in Waynesboro.
In addition, Mary Mannix, CEO of Augusta Health, serves as a member of the Augusta Health Foundation Board of Directors, and Moran was appointed as the Foundation's inaugural chair in July, 2013. John Peterson, chairman of the Augusta Health Board of Directors and Tami Radecke, Executive Director of the Foundation, serve as ex-officio members.
The Augusta Health Foundation serves as the philanthropic arm of Augusta Health. Its purpose it to develop lifelong relationships with patients, family members and friends of Augusta Health for the purpose of providing financial support for new and expanded patient care programs, outreach services, and employee assistance.
Augusta Health is an independent, nonprofit community hospital whose mission is to promote the health and well-being of our community through access to excellent care.  Named one of the 100 Top Hospitals in America by Thomson Reuters in both 2011 and 2012, Augusta Health has also been nationally recognized by HealthGrades as one of America's 100 Best Hospitals for clinical excellence and patient safety for the last three consecutive years.  For more information about Augusta Health, its programs or its services, please contact public relations at 540.245.7329 or 540.221.7329, or visit our website, www.augustahealth.com.