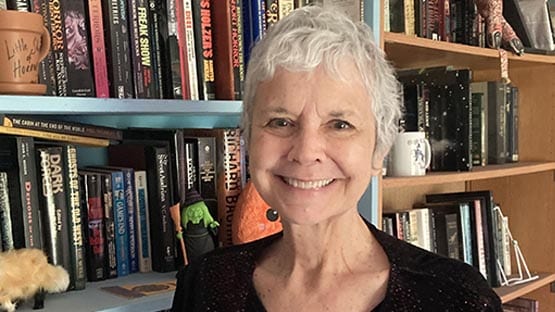 Augusta County author Elizabeth Massie will be honored June 17 with Lifetime Achievement Award from The Horror Writers Association. Massie, along with fellow honorees John Saul and Nuzo Onoh, will receive the award at StokerCon in Pittsburgh on June 17.
The Lifetime Achievement Award is the most prestigious of all awards presented by HWA – acknowledging superior achievement in an entire career.
Massie, for her part, was in disbelief when she was notified of the award.
"I've been in the horror fiction 'biz' for so long, I'd actually lost track of how much published work I'd produced. So when the HWA contacted me to say I was going to receive a Lifetime Achievement Award, I was thrilled but also surprised," Massie said. "Had I actually crafted so much successful, terrifying fiction that my body of work qualified me for this honor? Yet they assured me I had."
Massie joins other highly regarded recipients including Stephen King, Ray Bradbury, Anne Rice, Richard Matheson, Peter Straub, Chelsea Quinn Yarbro, Thomas Harris, and Joyce Carole Oates, among others.
Massie, whose first horror story, "Whittler," was published by The Horror Show magazine in 1984, is a two-time Bram Stoker Award-winning and Scribe Award-winning author of horror novels, novellas, short fiction, media-tie ins, poetry and nonfiction.
Massie was a seventh grade life science before leaving the teaching profession in 1991 to become a full-time writer.
Over the years, she has been published by Simon & Schuster, Berkley, Pocket Books, Harper, Leisure, Pan, Crossroad Press and many others.
Her novels and story collections include Sineater, Hell Gate, Desper Hollow, Wire Mesh Mothers, Homeplace, Naked on the Edge, Dark Shadows: Dreams of the Dark (co-authored with Mark Rainey), Versailles, Buffy the Vampire Slayer: Power of Persuasion, It Watching, Afraid, Twisted Branch (as Chris Blaine), Madame Cruller's Couch and Other Dark and Bizarre Tales, Naked on the Edge, The Great Chicago Fire and more.
Massie is also the creator of the Ameri-Scares series of spooky, middle-grade novels, which was optioned for television by Warner Horizon in 2021.
Elizabeth's short fiction has been included in countless magazines and anthologies, including several years' best publications. Most of her works are easily found on Amazon.
"I'm incredibly honored to be counted among those who have garnered such incredible respect in our field," Massie said. "I hope I can continue to produce quality, memorable scares that cause folks to leave the lights on or hide under the sheets."
HWA is an international, nonprofit organization of writers and publishing professionals, whose works are considered "dark literature," or "horror." Established in the 1980s by Dean Koontz, Joe R. Lansdale, and others, it now has members in countries such as Australia, Belgium, Brazil, Canada, United States, Germany, Denmark, Ireland, the UK, Spain, South Africa, Sweden and more.
Related stories
Hold on to hope: GoFundMe set up to help author Beth Massie during health treatment
Elizabeth Massie novel Desper Hollow features zombies, moonshine and Hollywood scouts
The 21st Century Writer: Finding Your Pathway Through the Jungle
Checkmate: Waynesboro author novelizes Showtime's 'The Tudors'
Local author gets 'Evan Almighty' closeup
Horror authors talk about ups, downs in business