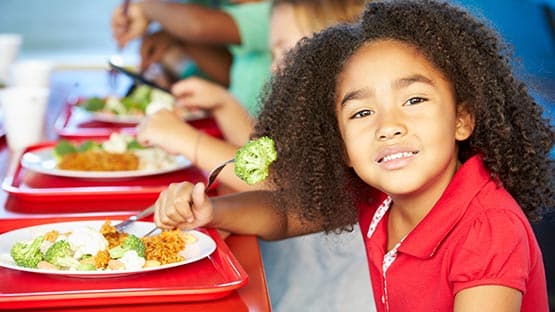 Legislators are working to help school districts in Virginia and across the country continue to provide meals to students and mitigate the impacts of inflation.
School meal programs cover their expenses using federal reimbursements and cafeteria sales.
Supply chain disruptions, labor shortages and rising costs have all dramatically increased costs for these programs.
According to a recent survey of school nutrition directors, 99.8 percent of respondents indicated increasing costs as a top challenge.
In June 2022, a bipartisan majority of the U.S. House increased federal reimbursements for every school lunch by 40 cents and every school breakfast by 15 cents through the 2022-2023 school year as part of the Keep Kids Fed Act — which President Biden then signed into law.
However, these increased rates are set to expire on June 30, 2023. U.S. Reps. Abigail Spanberger (D-VA-07) and Brian Fitzpatrick (R-PA-01) are looking to extend the increased reimbursement rates through the 2023-2024 school year.
"Less than one year ago, amid rising inflation and persistent supply chain disruptions, an overwhelming majority of my colleagues in the U.S. House recognized the need to alleviate the burden on our schools," said Spanberger. "As Virginia's communities, schools, families, and children are still contending with high costs, we have the same responsibility to extend these provisions for the next school year."
The Helping Schools Feed Kids Act would also direct the U.S. Department of Agriculture to examine proposals for reducing the administrative burden on school food authorities while ensuring students continue to receive healthy school meals.
"The bipartisan Helping Schools Feed Kids Act will extend existing federal reimbursement funding to support our schools as they feed kids in need," said Fitzpatrick. "I am proud to join Representative Spanberger in introducing this legislation to ensure that educators and parents can be confident our children have adequate access to healthy meals."
The bipartisan Helping Schools Feed Kids Act is endorsed by the School Nutrition Association, School Nutrition Association of Virginia, No Kid Hungry Virginia, Share Our Strength and Feeding America.
"Persistent cost increases on food and supplies, coupled with labor shortages, threaten school meal programs and their long-term viability. This bipartisan bill will step in when Keep Kids Fed Act funds expire to continue providing the necessary increased reimbursements that ensure school meal programs have the means to nourish students' success," said Lori Adkins, MS, SNS, CHE, School Nutrition Association President. "Additionally, addressing unnecessary regulatory burdens alleviates operators to focus their efforts on serving students and sustaining progress within their programs."