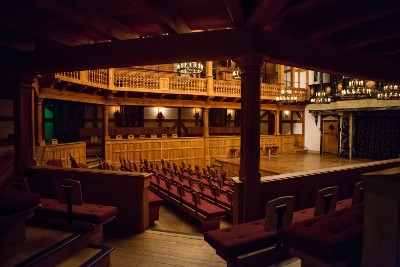 American Shakespeare Center's 35th anniversary season continues with a summer slate of Shakespeare comedies at Blackfriars Playhouse in Staunton.
This year marks the 400th anniversary of the First Folio – the first printing of Shakespeare's plays.
ASC's summer 2023 titles include:
The Taming of the Shrew: June 16-Aug. 12
Katherina will not be wooed and wed, but Petruchio is persistent: who's fooling whom in this merry comedy? Directed by José Zayas, this fast-paced staging of Shakespeare's comic play-within-a-play is set in modern-day Padua, where Kate's waspish wit and Petruchio's plotting take on new zest.
Much Ado About Nothing: July 21-Aug. 13
One of Shakespeare's most beloved romantic comedies! You'll feel joy of love won and the ache of love lost as this story makes you laugh, breaks your heart, and then somehow puts it back together again. One of ASC's most popular traditions is on display in this "Actors' Renaissance" production, as the players stage the show—no directors allowed. Like the actors in Shakespeare's day, it falls to them to pull the costumes, block the scenes, and find the pace and passion in every line, creating a bond between the players as well as with the audience. It's an up-close-and-personal experience that led Washington Post theatre critic Peter Marks to declare: "I arrived a skeptic, I left a believer."
Measure for Measure: June 23-Aug. 12
Mocking hypocrisy and corrupt authority, Shakespeare spins a sizzling morality tale where the falsely virtuous are exposed and true-hearted victims rewarded. Jenny Bennett directs this sharp-witted story.
Tickets for The Taming of the Shrew, Measure for Measure and Much Ado About Nothing are on sale now, online at AmericanShakespeareCenter.com, by phone at 540-851-1733 or 1-877-MUCH-ADO, or in person at the Blackfriars Playhouse Box Office, 10 S. Market St., Staunton.