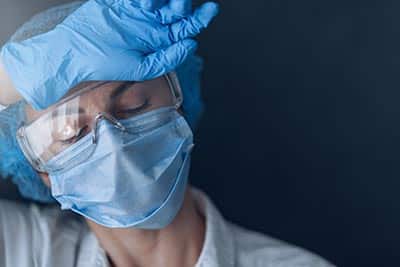 During the COVID pandemic, it became evident that healthcare professionals were struggling. A new statewide initiative aims to help protect the mental and emotional well-being of healthcare workers.
The initiative, titled ALL IN, seeks to support Virginia hospitals and health systems in redesigning their work environments to help team members feel more valued and supported.
The initiative is led by the ALL IN: WellBeing First for Healthcare coalition, co-founded by the Dr. Lorna Breen Heroes' Foundation and #FirstRespondersFirst.
The Virginia Hospital & Healthcare Association, the Virginia Nurses Association and the Medical Society of Virginia are supporting the ALL IN: Caring for Virginia's Caregivers initiative.
"Coming off three years of pandemic duty and immediately transitioning into an intense flu and respiratory syncytial virus surge has been challenging for hospitals, health systems and their team members who have bravely dealt with the strain of working under these extraordinary conditions," said Sean T. Connaughton, president and CEO of VHHA. "Our shared goal as a hospital community is to make Virginia the healthiest state in the nation. Achieving that means caring for patients and communities as well as taking care of the healthcare professionals who offer comfort and compassionate medical care to people in need. Doing this involves concerted efforts to strengthen our hospital and health system work environments through supportive staff programs."
Through the ALL IN: Caring for Virginia's Caregivers partnership framework, Connaughton said, they are leveraging national expertise with local experience and perspective to address healthcare workforce burnout challenges and support clinicians.
Hospitals and health systems participating in the initiative commit to:
Use the ALL IN Licensure and Credentialing Toolkit to eliminate barriers to mental health access;
Publicly declare an organizational commitment to workforce well-being and to invest in and cultivate an environment where health workers feel valued and supported;
Define at least one organizational goal to improve workforce well-being drawn from the National Academy of Medicine's National Plan for Health Workforce Well-Being and
Utilize initiative programming and resources offered and contribute to the community of shared learning and improvement.
"We have long been committed to making tangible tools readily available to physicians and being a safe, understanding place to get guidance on how and where to seek well-being and mental health support without judgment or punishment," said Melina Davis, CEO of MSV. "We're excited to build on our work and expand our overall capacity, so all Virginia's healthcare teams have the support they need to stay well and prevent burnout."
The initiative's programming is developed around ALL IN's Healthcare Workforce Rescue Package, which include the top evidence-based actions healthcare leaders can take to support their workforce and build a foundation for a long-term system well-being strategy.
The strategy includes:
Pursue Operational Efficiencies: Identify and remove low-value work, such as reducing electronic health records (EHR) clicks for common workflows and minimizing inbox notifications;
Designate a Well-Being Executive: Appoint one person with operational authority to align all clinician well-being efforts; and
Do More than Employee Assistance Programs (EAP): Ensure adequate mental health care by providing quality mental health counseling, standing-up a peer-support program and offering psychological first aid training.
"The health and culture of every practice setting, including hospitals and health systems, plays an important role in the happiness and well-being of its nurses and other clinical staff," said Janet Wall, CEO of VNA. "Nurses are critical to the health of Virginia and we're eager to collaborate to address the underlying system challenges that are preventing workplaces from being healthy work environments."
The initiative is being launched with a calling to Virginia hospitals and health systems to remove one of the most substantial barriers clinicians face to their mental health and well-being: fear of losing their job because of overly broad and invasive mental health questions on credentialing applications that may be stigmatizing or cause reluctance to seeking appropriate treatment.
The hospitals and health systems that audit and change language on credentialing applications will be recognized as being ALL IN for prioritizing clinician well-being and be awarded as a WellBeing First Champion.
"Mental health questions were often added to credentialing applications out of a misplaced desire to protect patients and families from clinicians who might not be fit to give care. Yet there is no evidence they serve that function," said Corey Feist, co-founder of ALL IN: WellBeing First for Healthcare and president of the Dr. Lorna Breen Heroes' Foundation. "When clinicians are afraid to seek the mental health care they need, they may find themselves unable to work due to burnout or behavioral health disorders.
"That's why national leaders, including the American Medical Association, American Hospital Association, Joint Commission, National Academy of Medicine and the U.S. Surgeon General, have also called on removing this barrier. Ensuring that clinicians can access necessary mental health care not only benefits their well-being, but also improves the health of our entire country. Patient outcomes will improve when we prioritize clinician well-being, because to care for others, clinicians must also be cared for."