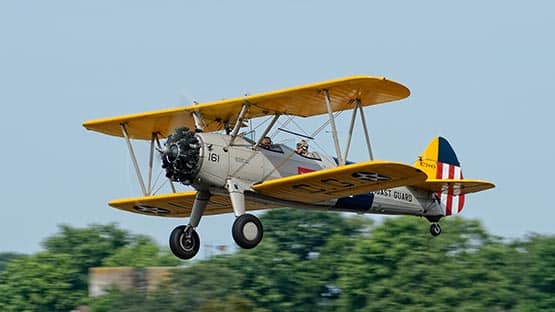 The Capital Wing of the Commemorative Air Force will be flying at 14 cities in four states as a tribute to the thousands of men and women who built, services and flew the vintage aircraft.
The Warbird Tour Schedule for 2023 will give the public an opportunity to fly in the same type of warbirds as those of another generation 80 years ago.
Restored to almost pristine condition, the warbirds on tour will include a 1945 TBM Avenger torpedo bomber, a 1943 Stinson L-5 Sentinel, a 1946 Fairchild UC-61 Forwarder and a 1942 Boeing PT-17 Stearman open cockpit bi-plane.
Rides often sell out prior to the event and flight seats not sold in advance will be available for sale on-site at the various airports. The warbirds will fly subject to weather, unanticipated maintenance, pilot availability and sufficient advance flight sales.
Kicking off the tour will be an Open Hangar Day on April 29 in Culpeper where the public can watch the restoration of the Capital Wing Vultee BT-13, visit the museum as well as take rides in three warbirds.
Added attractions at many events will include the unique TBM "Wing Walk" where the public can walk on the wing of a WWII bomber, a B-26 machine-gun turret, WWII reenactors and car shows.
Scheduled static aircraft include a Fuji LM-1, one of only four in the world still flying, and a French Alouette II, the world's first gas turbine powered helicopter.
The Capital Wing is a non-profit 501(c)(3) organization and is staffed entirely by volunteers.
Events will take place in Virginia, West Virginia, Pennsylvania and Maryland in 2023.
Virginia events include:
April 29: KCJR Culpeper – Open Hangar Day
May 6: KHEF Manassas – Open House
May 13: KOFP Ashland (Richmond) – "Cow Drop"
July 4: Culpeper – July 4th Flyover
July 8-9: KOFP Ashland (Richmond)
July 15-16: KHWY Warrenton – Warbird Showcase
Aug. 5-6: KRMN Stafford – Warbird Showcase
Aug. 12-13: KCJR Culpeper – Warbird Showcase and Car Show
Sept. 16: KIAD Dulles International – Plane Pull
Sept. 30: KJYO Leesburg – Airshow
Oct. 7: KCJR Culpeper – Airfest Airshow
Oct. 28: KEZF Fredericksburg – Harvest Festival
The full tour schedule and advance ticketing for any warbird is available online at https://www.capitalwingwarbirdrides.org/.