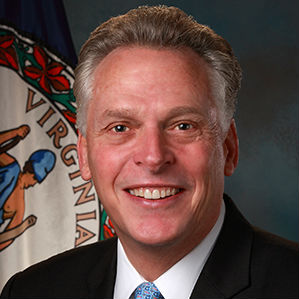 Today Gov. Terry McAuliffe and First Lady Dorothy McAuliffe announced that the Virginia Outdoors Plan, Virginia's official guide for the planning of public outdoor recreation and land conservation has been revised and is now available online. The plan, which is updated every five years, is a product of the Virginia Department of Conservation and Recreation and highlights the beautiful natural resources and historical attractions Virginia has to offer.
"Virginia's parks, natural areas, historic sites and scenic views help define the Commonwealth as a great place to live, work and raise a family, and they play a critical role in supporting Virginia's second largest industry: tourism." Gov. Terry McAuliffe said. "The Virginia Outdoors Plan is our five-year guide for protecting and enhancing our natural resources and outdoor recreational assets and this updated plan will help keep our economy growing and our communities thriving."
This is the 10th plan to be produced since the 1965 publication of "Virginia's Common Wealth," the first comprehensive study of Virginia's outdoor recreation facilities and resources. It is the first to be completely paperless, and its publication marks the debut of VOP Mapper, a user-friendly online tool for mapping outdoor recreation resources and conserved lands. The plan can be viewed at www.dcr.virginia.gov/vop.
Speaking about the launch of the plan, First Lady Dorothy McAuliffe said, "The online plan as well as our new map tool will enable more Virginians and visitors from across the globe to identify recreational sites in Virginia. These innovative and user-friendly resources will raise awareness of the assets our great state has." To view a video featuring the First Lady introducing the new outdoor plan, click here.
This plan's theme is "Virginia is for Outdoor Lovers," and recommendations focus heavily on expanding tourism opportunities and the economy through outdoor recreation and land conservation.
The Virginia Outdoors Plan is a requirement for Virginia to participate in the federal Land and Water Conservation Fund program. Since that program's inception nearly 50 years ago, Virginia has received more than $76 million in LWCF grants through the national park service. DCR is tasked with dispersing these grant funds statewide for public outdoor recreation. More than 400 projects across the state have been made possible through this funding. These projects range from improvements at existing parks to land acquisitions for developing new parks.
The Virginia Outdoors Plan is developed using the results of the Virginia Outdoors Demand Survey. The survey helps gauge the level at which Virginians are participating in specific outdoor recreation activities. It also measures respondents' attitudes about the importance of outdoor recreation and land conservation, their use of technology to find outdoor recreation opportunities, and the outdoor amenities they prefer.
The survey cited in this plan was administered in 2011 by the University of Virginia Center for Survey Research. The plan was developed using the responses from 3,100 Virginia households. In addition to the survey, input about outdoor recreation and land conservation was collected during 42 public meetings around the state.
"The Virginia Outdoors Plan reflects a vast undertaking to gather and analyze information about the public's use and perceptions of outdoor recreation," said Danette Poole, DCR's director for planning and recreation. "Working in concert with other planners at local, state, regional and federal levels, we've used that information to formulate recommendations for outdoor recreation and land conservation across the state. Those recommendations are listed in the plan."
Select findings from the survey:
Virginians have a high regard for the importance of outdoor recreation opportunities and a strong commitment to the protection of natural areas. The survey finds strong support for public funding and public management of lands in pursuit of the protection of natural areas and the availability of public access to those areas.
More than nine out of 10 respondents consider access to outdoor recreation "very important" or "important," especially those aged 18 to 24.
Trails for hiking and walking were cited as the most needed outdoor recreation amenity in Virginia by 68 percent of respondents, followed by public access to state waters for fishing, swimming and beach use (60 percent) and access to natural areas (55 percent).
Nearly a quarter of respondents said they had camped at least once in the 12 months prior to taking the survey.
The top four outdoor recreation activities in Virginia are walking for pleasure (82 percent), visiting historic sites (64 percent), visiting local, state or national parks (51 percent), and visiting natural areas, preserves or refuges (50 percent).
The top three reasons Virginians don't participate in outdoor recreation are lack of personal/family time (40 percent), lack of information (28 percent) and recreational opportunities are too far away from home/no public transportation (20 percent).