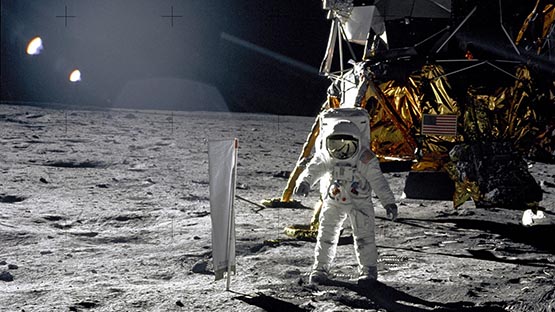 A new immersive space exhibition that highlights Virginia's role in the U.S. space program is set to open in March at the Virginia Museum of History & Culture.
Apollo: When We Went to the Moon chronicles how space exploration that began as an extension of the Cold War between the U.S. and the Soviet Union ultimately led to international cooperation both on and off Earth.
The exhibition will open to the public on March 18 and continue to be on display through Dec. 31.
The 7,000-square-foot exhibition organized by the U.S Space & Rocket Center immerses visitors in the epic story of manned space flight through the eyes of the astronauts, but also through the experiences of the 400,000 scientists, engineers and contractors who made our landings on the moon possible 50 years ago.
The exhibition features many artifacts from the U.S. Space & Rocket Center's collections as well as media presentations that capture both the excitement and turbulent nature of this pivotal era in our history.
Visitors can touch a piece of the moon, be transported to the Apollo 11 launch pad as part of an immersive audiovisual experience; leave their "footprints" behind as they walk across a virtual lunar surface; and climb aboard a full-scale Apollo 17 lunar rover model to experience how astronauts got around on the moon.
"The installation of this new exhibition has been eagerly anticipated, and we are excited to take visitors on a galactic journey through the history of space exploration," said Jamie Bosket, President & CEO at the Virginia Museum of History & Culture. "One of the most exciting parts of this new exhibition is that we have the opportunity to highlight the important Virginia history that is woven into the ever-evolving story of space exploration."
The plan that was adopted by NASA to land on the moon was developed in Virginia.
Spacecraft were meticulously designed and tested by Langley engineers, and in first-of-their-kind simulators, astronauts learned to join two small vehicles in the vastness of space, land on the lunar surface, and return safely to Earth. So successful was the work done here, that when asked what it was like to walk on the moon, astronaut Neil Armstrong simply replied: "Like Langley."
For more information on Apollo: When We Went to the Moon, visit VirginiaHistory.org/Apollo