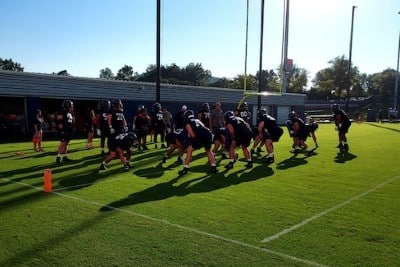 Virginia football coach Tony Elliott wants to develop a running game to give balance to his Cavaliers offense. Whether he'll be able to is a function of how quickly the staff can develop an offensive line from a group of inexperienced leftovers and transfers.
"It's on us as coaches, we've got to make sure that we don't have an ego, and we don't make it about us or the system, but we make it about the young men, first and foremost, and identify what they can do, and help them become the best at what they can do," Elliott said Wednesday evening, after UVA's first football practice in August camp.
A couple of weeks ago at the ACC Football Kickoff, Elliott lamented aloud how he'd failed to re-recruit the linchpins of last year's stellar offensive line, anchored by Olusegun OIuwatimi, a second-team All-American at center, who played 910 snaps, had a 79.4 Pro Football Focus grade this past season, and was a Rimington Trophy Finalist as one of the top three centers in the nation in 2021.
Olu transferred to Michigan, and the O line also lost Bobby Haskins (654 snaps, 65.7 PFF grade) to Southern Cal, Ryan Swoboda (787 snaps, 70.3 PFF grade) to Central Florida, Joe Bissinger (389 snaps, 59.7 PFF grade) to SMU, and Chris Glaser (864 snaps, 72.3 PFF grade) and Ryan Nelson (806 snaps, 69.7 PFF grade) to graduation.
Elliott retained Garett Tujugue to coach the offensive line, and Coach 2J has his work cut out for him trying to piece together a group that can keep Armstrong upright.
Elliott said last month, and reiterated after the first practice Wednesday evening, that the O line has experience, "just not a lot of it," starting with 6'4", 280-pound junior Jonathan Leech (224 career snaps, including 183 in 2021), who saw time at both tackle and both guard spots this spring.
Elliott is also high on Logan Taylor, a 6'7", 332-pound sophomore who was a four-star prep recruit, but was limited in the spring due to injury, and grad transfer John Paul Flores (6'5", 300, Dartmouth), who was a second-team All-Ivy selection in 2021, grading out at 67.4 on 621 snaps over 10 games.
Flores had offers from a host of schools, including SMU, Temple and East Carolina, so, FCS guy or not, it wasn't just Virginia that thought he could contribute at the next level.
Jestus Johnson, a 6'6", 330-pound sophomore, got snaps in the spring at center and the guard spots. Derek Devine, a 6'6", 286-pound soon-to-be grad senior, rotated at guard and tackle. Ty Furnish, a 6'4", 270-pound sophomore got time at center.
Also getting good looks in the spring were 6'5", 323-pound guard Noah Josey and 6'7", 272-pound sophomore Charlie Patterson at left tackle.
"I think the advantage that we do have is you look at you look at Devine, you look at, you know, Logan Taylor looks great, Josey has been here for a year, Logan been here for a year, he was injured, then you got Leech, he has been here for a while, Jestus has been here for a couple of years. It's not like they're all freshmen, we've got some older guys, they just don't have a ton of experience, but they're taking a hold to the challenge," Elliott said.
"JP adds some depth and some competition, gives us some more flexibility at center, and we've got a lot of young guys, but some of them are going to have to step up," Elliott said. "I think the biggest thing is to make sure we don't overwhelm them, so that sort of they have confidence. And then, like I told the coaches after practice, you know, it's not about us, being the guys that can win on the chalkboard. I'd rather be a team that is a good team that doesn't do a lot than to be a bad team, but we've got great coaches, and we've got great schemes."