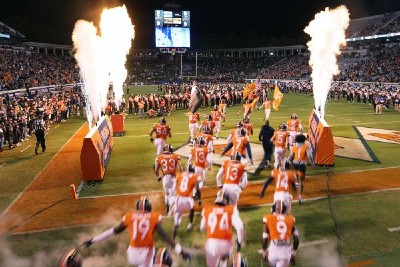 The Virginia defensive brain trust is no doubt studying game tape from VMI to get a feel for how the new-look Richmond offense is going to attack.
Head coach Russ Huesman hired former VMI offensive coordinator Billy Cosh, and brought in record-setting Keydets quarterback Reece Udinski and FCS All-America wideout Jakob Herres to help run Cosh's Air Raid.
"Offensively, (it's) kind of a toss-up because they've got a new coordinator coming over, and we anticipate it's going to be similar to what he did last year, so we're studying some of the things he did last year, but still unknowns," first-year Virginia head coach Tony Elliott said of the matchup with the Spiders in Saturday's season opener at Scott Stadium (12:30 ET kickoff).
Udinski threw for a school-record 7,877 yards and 48 touchdowns at VMI, helping lead the Keydets to their first-ever FCS playoff berth in 2021, before transferring to Maryland last fall.
An ACL injury suffered in the 2021 spring season set him back in terms of being able to compete for the QB1 job at Maryland, though he did see action in four games there, including the Terps' Pinstripe Bowl win over Virginia Tech.
Herres, a 6'4" wide receiver, caught 226 passes for 3,006 yards and 26 TDs in 37 games at VMI, and was a matchup nightmare with his size and route-running skills.
With the triggerman intimately familiar with the offense, and his top receiver there to give him a big target, Richmond should be able to move the ball against a Virginia defense that had trouble getting stops last season – ranking 123rd in FBS in total defense, allowing 466.0 yards per game to opponents.
"First of all, tremendous amount of respect for what those guys do. The quarterback is athletic. He can pull the ball, he can run it. Receiver is big, versatile. They've got him back there catching punts, so he's a big athlete that can run around and do a lot of things, so our guys are going to have to be ready to play," Elliott said.
Looking at VMI's season stats from the fall of 2021, Cosh's tweak on the Air Raid was to make it roughly 50/50 run/pass, and going back to 2019, Cosh had a first-team FCS All-America running back, Alex Ramsey, go for 1,389 yards and 22 TDs on the ground.
Look for redshirt senior running back Aaron Dykes, who had 1,197 all-purpose yards in 2021, and ranks second among all returning FCS kick returners with three career kick-return touchdowns, to be fed the ball early and often on the ground.
The Richmond defense features two-time FCS All-American linebacker Tristan Wheeler, a redshirt junior who led UR with 114 tackles in 2021, and redshirt senior defensive lineman Aidan Murray, who had five sacks and 7.5 tackles for loss in his first season as a starter last fall.
It's been a while, but UVA fans, anyway, remember that Richmond spoiled Bronco Mendenhall's Virginia debut back in 2016 with a 37-20 win over a Cavaliers team that would go on to finish 2-10.
The message from Elliott and his staff to the team is: don't take anything for granted.
"In terms of Richmond, I know they're going to play hard," Elliott said. "They're going to come in here confident because they've won in Scott Stadium before against UVA. They're well-coached. They've got some transfers. Defensively they know what they're doing. They trust their scheme. They've got experience there. Their linebacking corps is really good. They've got some returners on the D-line. Their boundary corner is really, really good. They can put him on an island which allows them to play different types of coverages to your three receiver services and feel good about that.
"The thing that I'm trying to instill in these guys and get them to buy into is, man, every game is the biggest game on your schedule. Richmond, no offense to them, but they're just a nameless, faceless opponent, and it's about us. It doesn't matter who we're playing," Elliott said. "I'm challenging them to establish what is going to be our standard of play. I know what the standard should be, but I want them to establish the standard, and then I can guide them and say, okay, that's the standard, or no, you need to push yourself a little more to reach that standard."