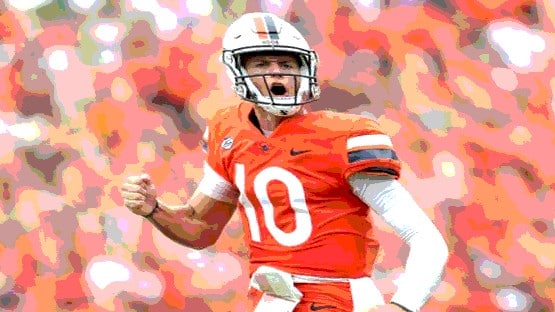 Anthony Colandrea was named the ACC Rookie of the Week after his stellar debut in UVA's 36-35 loss to JMU on Saturday.
In his first collegiate start, Colandrea was 20-for-26 with 377 yards and two touchdowns, all single-game UVA freshman records. His 377 passing yards are the most by an ACC quarterback this season and the most by any FBS freshman nationally.
QUARTERBACK – Tyler Van Dyke, Miami, QB, Glastonbury, Conn.
Van Dyke threw for five touchdowns in Miami's 48-33 romp of No. 23 Texas A&M on Saturday, marking a new career high. He finished 21-for-30 for 374 yards with zero interceptions, leading Miami to a rally from an early 10-point deficit into a win over a ranked opponent.
CO-RUNNING BACK – Omarion Hampton, North Carolina, RB, Clayton, N.C.
Hampton rushed for a career-high 234 yards on 26 carries with three touchdowns against Appalachian State. In addition, Hampton's 68-yard touchdown run was a career-best, as the Tar Heels moved to 2-0 on the season with a 40-34 double-overtime win. He became Carolina's first 200-yard rusher since Ty Chandler gained 213 yards against Wake Forest in 2021. He also became the 27th Tar Heel to ever rush for 200 yards or more in a game.
CO-RUNNING BACK – Demond Claiborne, Wake Forest, RB, Aylett, Va.
In his first-career start, Clairborne led a rushing attack against the Commodores where the Demond Deacons totaled 288 yards on Saturday afternoon which is the most for a Wake Forest team since the Deacs recorded 299 yards against Campbell on Sept. 19, 2020. Overall, Claiborne tallied 165 yards on the ground on 26 carries with an average of 6.3 yards per rush. Additionally, his 165 yards are the fourth-highest total in the Dave Clawson era and the most since Cade Carney tallied 223 yards against Duke in 2018.
RECEIVER – Jacolby George, Miami, WR, Lauderhill, Fla.
George started and put together the best performance of his career in Miami's 48-33 win over No. 23 Texas A&M. George had the first three-touchdown receiving game by a Hurricane since 2010, catching scores of 3, 11 and 64 yards – the last one coming on a supreme individual effort in the fourth quarter that sealed the outcome. He finished the game with five catches for 94 yards and three scores.
CO-OFFENSIVE LINEMAN – D'Mitri Emmanuel, Florida State, RG, Charlotte, N.C.
Emmanuel played up front for the Seminoles' offensive line that allowed the offense to run for 306 yards on 37 carries, an average of 8.3 yards per rush, led by running back Trey Benson, who ran for three touchdowns on just nine carries in a 66-13 home win over Southern Miss.
CO-OFFENSIVE LINEMAN – Anez Cooper, Miami, RG, Pleasant Grove, Ala.
Miami's top-graded offensive lineman from Saturday's 48-33 win over No. 23 Texas A&M, Cooper started at right guard and helped deliver a dominating performance against one of the nation's top defensive fronts. The Hurricanes totaled 451 total yards, outgaining the explosive Aggies in earning a ranked win.
DEFENSIVE LINEMAN – Kyle Kennard, Georgia Tech, DE, Atlanta, Ga.
Kennard turned in one of the most dominant defensive performances in school history with an interception, forced fumble and a fumble recovery in Georgia Tech's 48-13 win over South Carolina State. The defensive end became only the second Georgia Tech student-athlete since 2000 with an interception, forced fumble, and fumble recovery in a game (Bruce Jordan-Swilling at Virginia – 2017) and only the sixth GT player since 2000 with an interception and fumble recovery in the same contest. Kennard's INT in the first quarter set up Georgia Tech's first touchdown of the game and his forced fumble and fumble recovery in the third quarter set up the Yellow Jackets' final score of the day, helping Tech hold a 14-0 advantage for the day on points off turnovers. In addition to the takeaways, Kennard finished with five tackles and a half-tackle-for-loss in the victory.
LINEBACKER – Keli Lawson, Virginia Tech, LB, Stephens City, Va.
Lawson registered a career-high 14 tackles, which was tied for the team lead versus Purdue. His career day included seven solo tackles, a half sack and a pass breakup against the Boilermakers.
DEFENSIVE BACK – Jaden Davis, Miami, DB, Fort Lauderdale, Fla.
Davis enjoyed a breakout performance for the Hurricanes on Saturday in Miami's 48-33 win over No. 23 Texas A&M. Davis totaled eight tackles, the second-most on the team, to go along with two tackles-for-loss. His forced fumble in the fourth quarter sparked what proved to be the game-sealing touchdown drive on offense.
CO-SPECIALIST – Matthew Dennis, Wake Forest, K, Charlotte, N.C.
Dennis continued his great start to the 2023 season as he hit three field goals on Saturday in the win over Vanderbilt. He is now six-for-seven on the season. Overall for his career, Dennis is 18-of-21 and has made nine 30-plus yard field goals and two 40-plus yard field goals.
CO-SPECIALIST – Peter Moore, Virginia Tech, P, Davidsonville, Md.
Moore punted seven times against Purdue for 324 yards. His average was 46 yards per punt with a long of 55, as four of his punts flew more than 50 yards. Three of his seven punts were downed inside the 20-yard line.