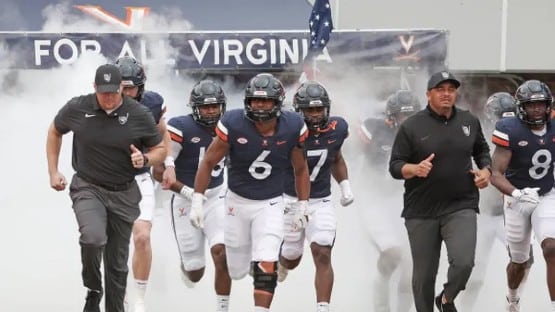 The gameday experience for UVA football fans at Scott Stadium has been lacking for a while now. Virginia Athletics is continuing to try to address that.
"Our goal as a department is to deliver the best game day experience for Cavalier fans every year, and we are thrilled with the progress we are making to enhance the experience at Scott Stadium this Fall," said Tyler Jones, deputy athletics director for external operations. The new LED field lights and the technology associated with the lights will be a game changer for our night game atmosphere. We're also excited about the enhancements we have made to our concessions operations, the visual branding of the stadium, and plenty more for the 2023 season."
What they're selling us on
TING high-speed internet access: An increased number of data points have been added at Scott Stadium gates, which is good, because the internet access has been anything but high speed for forever.
Customer-oriented staffing to increase: Again, an area desperately in need of improvement. Virginia Athletics says it has reviewed fan feedback from the 2022 season and identified areas of focus to improvement. These groups have spent the offseason developing a staffing plan to better serve patrons at Scott Stadium.
Concessions: Concession stands at Virginia athletics venues, including Scott Stadium, will be serviced by Aramark Sports & Entertainment Group for the 2023-24 academic year. A subsidiary of Aramark, the group specializes in athletics and major events and has a primary objective of increasing the quality products served and efficiency at the point of sale.
Alcohol sales: It will no longer be required to obtain a wristband prior to the purchase of alcoholic beverages at Scott Stadium, a proactive measure to address wait times and to streamline operations. Fans 21 and over will need to show identification at the point of sale only and are limited to two drinks per transaction. All alcohol sales will conclude at the end of the third quarter.
Grab and go: Points of sale for alcohol include grab and go option in the lower concourse as well as the ability to purchase beer and designated concession stands. Portable alcohol vendors will also be strategically setup around the stadium to help decrease concession lines.
Alcohol options: The menu will feature the Wahoowa Pale Ale, Cavalier Lager, Hoo Rah Ray IPA and Virginia Crush.
No cash: To further improve the efficiency and wait time concerns, Scott Stadium concession stands and Cavalier Team Shops will be cashless. Fans are strongly encouraged to utilize cashless options like credit/debit cards, apple wallet or gift cards. Certain portable vendors around the stadium will still accept cash but all vendors will be transitioning points of sale to be entirely cashless in 2023. The UVA ticket office on game day will still have a cash option.
Fan Fest: The Cavalier Fan Fest returns to the Aquatics and Fitness Center this year. Open 2.5 hours before the game, and closing 40 minutes prior to kickoff, Fan Fest will feature balloon artists, a face painting station, a photo zone, a coloring zone, cornhole and more. Admission is free.
2023 Promotions
Sept. 9 vs. JMU (Noon) – UVA Strong Day/T-Shirt Giveaway/500th Game in Scott Stadium
Sept. 22 vs. NC State (7:30 p.m.) – True Blue Game
Oct. 7 vs. William & Mary (TBA) – Homecomings/Breast Cancer Awareness Game/Cavman's Crew Day
Nov. 4 vs. Georgia Tech (TBA) – Family Weekend/Band Day
Nov. 18 vs. Duke (TBA) –Heroes Appreciation Day
Nov. 25 vs. Virginia Tech (TBA) – Senior Day/Commonwealth Clash
Cavalier Marching Band Shows
James Madison: UVA Strong Day
NC State: Spies of Hooville
William & Mary: Latin Icons
Georgia Tech: V is for Villains
Duke: Armed Forces Show
Virginia Tech: Greatest Hits of the Cavalier Marching Band