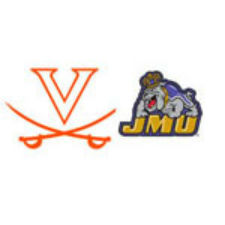 You're looking at the schedule and wondering to yourself, Why is UVA basketball playing at JMU? At all. Not just in the season opener. ACC at CAA; this makes no sense whatsoever.
OK, so maybe Tony Bennett is doing Matt Brady a solid, not to mention the fine folks in the JMU athletics ticket office. (And StubHub and the other ticket resellers.)
But there is a method to the Virginia coach's madness outside of all that. JMU is coming off an 11-20 season in 2013-2014, sure, but they will be at home, in the cozy Convocation Center, which if you've never been there before, let me tell you, yes, it can get loud, and it will get loud Friday night with a Top 10 team in town.
And not just any Top 10 team, mind you, but the mean ol' State U. from across the Blue Ridge.
There will be plenty of UVA fans in the arena, no doubt, but all that means is it will be even louder, at least in the first half, when, and this being the game of basketball, we can say when, when JMU goes on a run, hits a couple of threes, takes a lead, forces Bennett to call a timeout, the place goes nuts.
Bennett, at that moment, will have what he wanted out of his first game.
"There is so much parity in college basketball. You play on the road, you play in a setting that I'm sure there will be a lot of excitement on opening night for us, for them. Certainly Coach Brady, a well‑coached team and all that stuff there, they'll be ready," Bennett told me at Media Day a couple of weeks back.
This road test is a little less stern, at least on paper, than the one that Bennett put out for his team for the 2012-2013 season opener, at George Mason, a game that the Cavs lost in Fairfax, 63-59.
That was the first college game for this year's junior class, which includes key contributors Justin Anderson and Mike Tobey.
Tobey remembers that game at Mason well.
"We definitely do not want the same outcome, especially with the team we have this year, with our experience. We definitely shouldn't let anything like that happen again," Tobey said.
That's the kind of thing that Bennett wants to hear from his team.
"It's really all geared toward finding out about our team," Bennett said. "You don't want to get to the conference and find out I don't know what we're made of. You want to put yourself in the spots where you have to play on the road, you have to play different quality opponents, different style of opponents so you really have a good gauge of where you're at and try to be as ready as you can for conference play."
– Column by Chris Graham