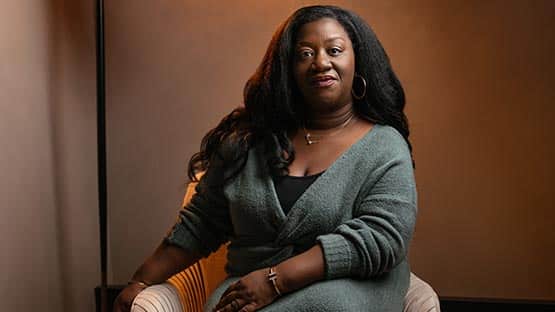 Renowned cultural critic, sociologist and award-winning author Dr. Tressie McMillan Cottom will present an endowed lecture at Bridgewater College on Tuesday, March 21, at 7:30 p.m.
Cottom's address, "The Crisis of Faith in Higher Education," will be held in Cole Hall and is free and open to the public.
In her 2018 book Lower Ed: The Troubling Rise of For-Profit Colleges in the New Economy and in subsequent essays, Cottom examines the impact of higher education on society and the way it interacts with the economy, the labor market and the collective ideal of the American dream.
Her second book, Thick: And Other Essays, explores a range of topics including Black womanhood, body image and Cottom's experience as a Southern Black female academic.
Thick became a finalist for the 2019 National Book Award, and the following year Cottom received a MacArthur Foundation Fellowship, also known as a "genius grant."
Cottom's far-ranging intellectual interests include books, articles, magazine profiles and opinion editorials, but it is her essays that routinely shape the discourse.
Cottom's version of the essay, or "Tressays," as her fans refer to them, is part revolutionary pamphlet, part poetic chapbook, part sociological analysis and part call-to-arms.
Cottom is a professor at the University of North Carolina-Chapel Hill and a New York Times contributing writer.
She holds a B.A. from North Carolina Central University and a Ph.D. from Emory University.
For the endowed lecture, doors open at 6:30 p.m.
The format for the event is a moderated Q&A with Dr. Dominique Baker, Associate Professor of Education Policy at Southern Methodist University.
A book signing will follow.
A livestream of the event will be available at bridgewater.edu/cottom.
This endowed lecture is sponsored by the Harold H. Hersch Educational Fund and the W. Harold Row Symposium on Reconciliation.