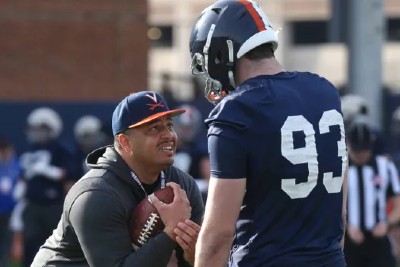 Virginia football coach Tony Elliott wants to have a more balanced offense than, certainly last year's Virginia offense, which won't be all that hard.
Elliott, as offensive coordinator at Clemson the past seven seasons, was about as close to 50/50 in pass/run as you can get.
Robert Anae, the offensive coordinator at Virginia the past six seasons, called pass plays on just under 73 percent of Virginia's offensive snaps last season.
Anae is Syracuse's problem now – maybe more specifically, Sean Tucker's problem.
Tucker was a second-team All-American at tailback last season after leading the ACC with 1,496 rushing yards.
He got 246 carries last season to get there.
Virginia's backs got a total of 148 carries last season.
Anyway, again, their problem.
Virginia's problem is trying to create a ground game out of the leftovers from the Anae era.
Which is probably why, when pressed, Elliott isn't committing to Virginia being the 50/50 offense he had at Clemson.
"I don't know if I have a particular number in my mind," Elliott told reporters after practice on Monday. "The biggest thing is being effective and efficient and being balanced, meaning that if it's third and three, we don't have to be 100 percent throwing the football, we can run the ball and be effective, we can be plus four yards on first down."
Elliott and offensive coordinator Des Kitchings have been trying to find an RB1 from among a group including junior Mike Hollins, the returning leading rusher from 2021 (49 carries, 213 yards, 2 TDs), former walkon Perris Jones and Miami transfer Cody Brown.
Jones has been getting the praise of the coaching staff in camp, but it's possible that Elliott and Kitchings are using the media to hype Jones with the goal in mind of motivating Hollins to push a little harder to earn the starting nod, which, since I'm the one bringing it up, I must think is the case.
Another issue for the staff to think through is the absolute absence of any meaningful experience on the offensive line, and injuries in camp keeping offensive line coach Garett Tujague from being able to develop consistency and continuity with the new guys.
"TJ is probably the guy that gets the toughest rap because all the guys left, but he hasn't had a consistent group of five guys for two practices in a row," Elliott said. "In the last couple of scrimmages we've been able to run the ball, which is something I'm challenging the defense now. (Ben) Smiley was out, Devontae (Davis) was out, they didn't have some of their top guys in, but I'm starting to see the mentality showing up on the offensive line, and the biggest thing is they're covering guys up, and they're not turning guys loose, which gives the backs a chance to square their pads up, run behind their pads and push with power forward."
Elliott let his guard down for a second, thinking back to the talent at running back that he had back at Clemson.
He's human, like the rest of us.
"I don't know if we have a back right now that's a big home run hitter like Travis Etienne. Travis was an eraser" Elliott said, referring to the two-time ACC Player of the Year and 2021 first-round NFL pick.
"You know, that's kind of unfair to compare those guys to him, but I think we've got some guys that can definitely hit some big runs, and that's what you've seen so far, and I hope that it carries over and translates into the season.
"We haven't had the big home run runs like Perris had in the spring game, but there's been a good amount of 15-, 20-, 25-yard runs, which allows us to be balanced, stay aggressive, and then now the defense has to honor the play-action pass, you know, so when you turn around and you're showing stretch action, they've got to run to the stretch because they know that you can hand it off, and you can get at least four yards from what you've seen."