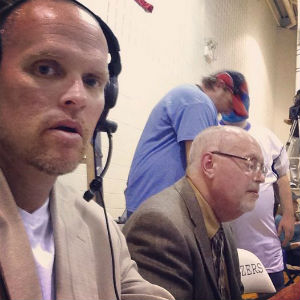 The John Paul Jones Arena in Charlottesville, Va., has a seating capacity of 15,600. TNA drew a reported 425 fans to the arena last week for a taping for a One Night Only pay-per-view.
You're talking roughly 2 percent of capacity. You're also talking a massive burn of cash.
This is in my past now, but in 2013 I tried my hand at being a wrestling promoter. Our company, Top Rope Pro Wrestling, put on three shows, two with live cards and one an autograph signing featuring WWE superstar Shawn Michaels. The smallest of the three was the Michaels signing, and only because one guy can only sign so many autographs.
We drew 300 for the Michaels event, had 500 at an event in Lexington, Va., for a card featuring Goldust, Daivari and Angelina Love, and just under 2,000 for a show in Waynesboro, Va., 20 miles from Charlottesville, incidentally, for a loaded card with the likes of Mick Foley, Jake The Snake Roberts, Kevin Nash, Sean Waltman, The Rock 'n Roll Express and Robbie E.
Funny thing about even the big show of the three: we lost money. The budget for that show came in at $30,000, and that was with a modest rental fee (we put the show on in a high school, not a massive basketball arena). We'd sold 1,200 tickets pre-sale, had a great walkup, concessions through the roof, and after paying the talent, paying the taxes to the state and the rest, we had nothing to show for the biggest night in wrestling that Waynesboro will ever see.
(In part because two of the talents, still on the current TNA roster, held us up for more money at the threat of disrupting the live show. Another story for another day there.)
I can only imagine how TNA does it from a bottom-line perspective drawing 425 people to an arena like JPJ, turning around two nights later and drawing 900 to another TV taping, in Fayetteville, N.C. The company rarely gets above 1,000 fans per show, according to the various published reports out there. (TNA is privately-held, so unlike with WWE, we have to rely on reports from correspondents doing crowd estimates, which can be unreliable, high or low, as opposed to getting more concrete numbers on a quarterly basis as is the case with WWE.)
I know for a fact what it feels like to draw 500, like we did for our Lexington show: devastating. That was a night of hemorrhaging money. We also lost money on Michaels even with the strong turnout because of his high appearance fee. (You roll the dice on those kinds of things; sometimes you win, sometimes you lose.)
Averaging out our small sample size of shows in 2013, we drew 900 per date for our three very different events, lost money for the year, and decided to close up shop. Another company that we worked for, Awesome Wrestling Entertainment, put on four live shows in 2011 that we were a part of in a marketing and creative capacity, drew an average of 1,200 a night (including 2,500 for a live TV pay-per-view we did just down the road in Fishersville, Va., about 30 miles from Charlottesville), and that company closed up shop with big losses on the ledger from those four house shows.
A lot of the focus on the future of TNA has been on the future of its TV product with its relationship with Spike TV coming at the end of the year, and probably rightly so. Looking at WWE's balance sheet, a little more than half its revenues come from TV, with about 25 percent coming from live events, which in 2013 averaged 5,900 paid, according to its annual corporate report.
TNA is drawing about 10 percent of what WWE is getting at live shows. Why the company still puts on live shows makes no sense from a bottom-line perspective, though to be brutally honest, that the company continues to exist at all in its current form makes no sense from a bottom-line perspective, except maybe as a tax write-off, and even that seems to be getting old for the folks writing the big checks that are getting flushed down various toilets.
– Column by Chris Graham