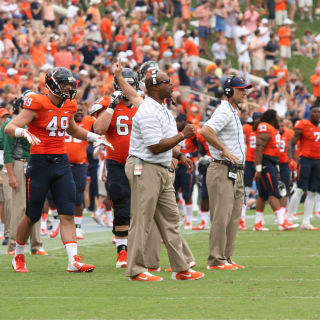 I wrote the most recent Mike London football coach obituary two weeks ago after Virginia lost on the road at Louisville to clinch yet another losing season under the sixth-year coach.
By my reasoning, London should not have survived the weekend, but he did, and then the Cavs won their third straight at home on Saturday, dispatching Duke to break a three-game losing streak in that series.
Which brings us to the season finale, Saturday, at home with Virginia Tech. Speaking of losing streaks in a series, the Hokies have won 11 straight in this one, with the last win for UVA coming way back in 2003.
That's so long ago that there was no Facebook, no Twitter, no YouTube. The oldest kids on either sideline on Saturday would have been in middle school that day.
Yeah, long time ago.
Mike London is 0-5 career against Frank Beamer, who just happens to be coaching his last game in the state of Virginia, with retirement looming, and it could very well be his last game, period, if London and the Cavs are somehow able to figure out a way to overcome whatever demons have them otherwise forever doomed.
A win for London could be a nice send-off for him on his own trek into the coaching sunset. A large subset of UVA football fans are hoping for that to be the case, that Virginia can get the win, and that London will greet reporters after the game with his own version of the Man in the Mirror on his way out.
I'm not so sure that would be the case, though. The guy who two weeks ago thought London would be gone by the following Monday started to think as last week went on that the coach could wiggle his way off the hot seat one more time with wins in his final two against Duke and Tech, because if that wasn't the case, then why not make the call and get it over with?
So in line with that thinking, London and his staff were coaching for their jobs last week, and what did we see? The best offensive productivity of the London era, arguably, certainly the best effort from the offense this season, 42 points and 502 total yards in a 42-34 win, and London acknowledging after the game that he told offensive coordinator Steve Fairchild to open up the playbook preceding all those points and all those yards.
If my thinking on this is correct, London is halfway there, and just needs a win on Saturday to keep his job for one more year.
And it would be hard to argue against him, again assuming a win. I can't see Virginia laying a big, ugly egg on Saturday to finish 4-8 with yet another loss to the rivals buttressing his case to stay on.
But win, finish 5-7, with a last-minute loss to Notre Dame, which is in the running for the College Football Playoff, one-score losses at Pitt (8-3), Miami (7-4) and Louisville (6-5), a 26-13 loss at #12 North Carolina (10-1) that was competitive, and would have been more so if not for five second-half turnovers, and …
Yes, those are all losses. And Virginia wasn't competitive at UCLA, and then there was the utter embarrassment of Boise State, punctuated by the video that ran on an endless loop on ESPN of London addressing the cameras in his pregame speech with players looking like they'd tuned him out as he fired and brimstoned.
And no, just because Frank Beamer was 2-8-1 in his sixth season, and was kept on by an AD who saw something that the rest of Hokie Nation, which honestly didn't even exist at the time, because that's how bad Tech football was back then, couldn't see, that Beamer had things on the right track, doesn't mean Craig Littlepage would be justified to keep London on for the final year of his deal.
It feels like this team has underperformed, just as it felt last fall that the 2014 Cavs underperformed in finishing 5-7, leaving at least two wins on the field, and maybe one or two additional.
London doesn't deserve a seventh season any more than any of us deserve to wake up tomorrow. Whether he has earned a seventh season is debatable, and I'm well aware that I will get pilloried for suggesting that it's even debatable, and trust me, I've been there with you, back and forth, all season long, all last season, back in 2013.
Taking off my sportswriter hat and putting on my UVA alum and lifelong Wahoos fan hat now, I'm rooting for a rollicking victory Saturday, and honestly, I hope after the win that London is retained. I want him to get the thing turned around, and in 10 or 15 years to send him off into retirement with the kind of fanfare that Beamer has been getting the past couple of weeks since announcing his plans to retire.
I've followed UVA football for more than 30 years, covering the beginning and end of the George Welsh era, and then the Al Groh era and now the Mike London era.
I get no special glee out of seeing the program that has brought so many good feelings, so many fun Saturdays, and yes, so much hand-wringing and teeth-gnashing, go through hard times.
One thing I'll remind my fellow 'Hoos is something I've been telling my Hokie friends since Beamer announced his intentions earlier this month: the grass isn't always greener.
In our case, a new coach could mean a quick turnaround like we've seen down in Florida, where Jim McElwain has the Gators in the Top 10 a season after the dismissal of Will Muschamp, but in nine cases out of 10 it means you're starting from square zero, with players transferring out, or being weeded out, the guys left behind taking time to adjust to the new schemes of new coordinators and position coaches, the program at least two, maybe three, years away from getting back on its feet.
At some point, you have to make a decision to cut your losses, blow the whole thing up and start over.
If Saturday is a Virginia Tech smackdown like we've seen all too often in recent years in this series pitting hammer against nail, maybe it's time to hit the nuclear button and start anew.
I have an odd feeling that Saturday is going to be a building block for London and his program that Tech fans can relate to from their own days of wanting to fire their coach off his hot seat.
– Column by Chris Graham